40% off for Quicken Mac 2007 customers
Hurry – Offer expires 5/24/16
Easily manage your money, create a budget, and make smart investment decisions
Enjoy new features such as 12-month budget and more…
Get other benefits such as free phone support, free mobile app, improved security, 10X more financial institutions than Quicken for Mac 2007 for automatic downloads
Easy to upgrade from Mac 2007 to Quicken 2016 for Mac!
Backed by our 60-day money-back guarantee
Pay bills from right within Quicken*

12-month budget

Portfolio time machine

Transfer money between accounts*

Export Category Summary and Tax Summary reports to a csv file
Quicken 2016 for Mac
NEW! Pay your bills from right within Quicken
See and track them all in one place so that you never miss a bill
See what bills have been paid, are coming up, or past due
Easily pay your bills on time from right within Quicken*
NEW! 12-month budget
Plan your spending to achieve the goals important to you (e.g., vacation, car, new home, retirement)
Now customize your budget with one-time-only, periodic and recurring monthly expenses
Easily track spending and income against your plan to stay on target
NEW! Portfolio time machine
See the historical value of your portfolio and individual holdings at a particular point in time
Track your investment performance over the past days, weeks, or years
Gain deeper learning and insights for future investing
Check accuracy of brokerage statements
NEW! Ability to transfer money between different accounts within your bank*
Transfer funds from your savings account to your checking account
User must enable transaction download with the associated bank account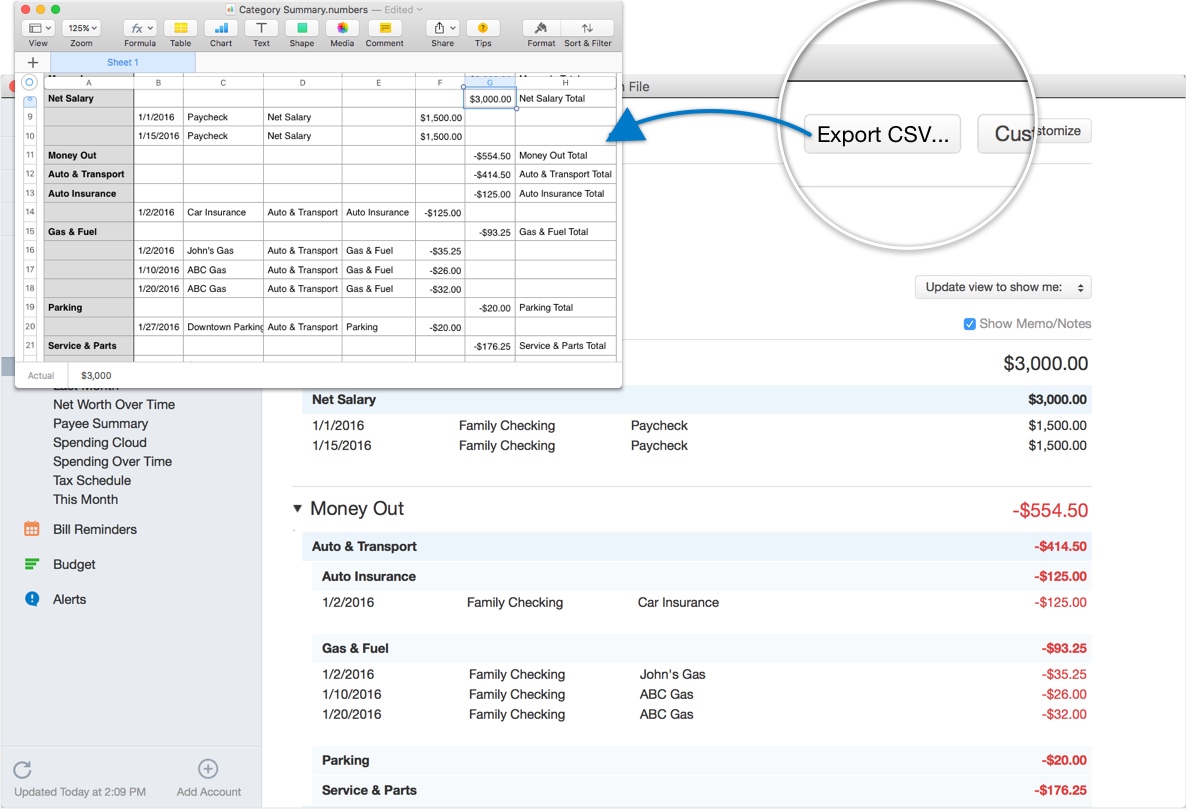 NEW! Export Category Summary and Tax Summary reports to a csv file
Export these reports with a single click
Enables you to analyze and graph data in Excel, Numbers, or your favorite spreadsheet app
Send your Quicken data to your accountant, financial planner, or other non-Quicken users
See all your accounts in one place
Get a single comprehensive view of your finances
Say "goodbye" to multiple sites, passwords and statements
Easily see what you're spending and where you can save
Stay on top of bills and spending
Schedule reminders for upcoming paychecks, bills and payments to avoid late fees
See the impact of future paychecks and bills to avoid overdrafts or slipping below minimum balance requirements
Plan and stay on a budget
Makes budgeting and sticking to a budget painless
Automatically create a budget based on your past spending
Customize your plan, and track your progress
Manage your investments and plan for taxes
See how your investments are performing
Keep your portfolio value current with continuous quote updates
Track cost basis, see realized and unrealized gains, and calculate capital gains, and more to make tax time easier.
Easy to get started and keep going
Step-by-step guidance helps you get up and running fast
Gives you the big picture in minutes
Make smart money decisions on the go*
Check your account balances and budget on the go.
Sync data from your computer to your iPhone, iPad, and Android device.
Snap and store receipts to easily track important purchases
You're up and running fast with simple setup
Chat with Quicken support for answers on any product
Get help, advice, and answers from the Quicken Live Community
Automatically transfer data from previous Quicken versions.