After creating a Quicken ID, I can't get past the Update Password Vault screen
339 people found this helpful
Overview
When you open Quicken, you'll see a prompt that you need to create a Quicken ID, and create a new password for your password vault:
This process is to ensure that you have secure access to your online banking usernames and passwords, and can continue to use the vault for online banking services.
Instructions
First, you'll need to enter the Intuit ID password for the data file, to verify your identity:
Then, you can enter your new vault password: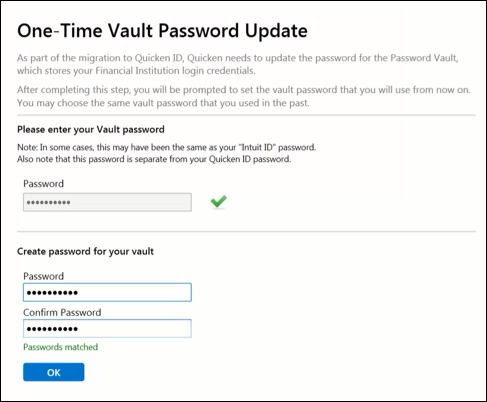 Just follow the on-screen instructions to complete this process; you should only have to do this once.
If you don't have your Intuit ID password 
For security reasons, you'll need to delete the password vault to make sure no one else has access to the passwords in your file.  After you complete the migration to Quicken ID, you can recreate the password vault in your file, and continue to update your transactions with Quicken.  Please note, this will not delete your data from your file. It will only delete the bank login credentials stored in the vault. This will also not affect the Quicken ID you have just created.