How to extend, upgrade, or downgrade, your Quicken membership
Product Version
Windows 2019
Canada 2017
Mac 2019
13 people found this helpful
Your Quicken membership will automatically renew on the renewal date displayed in your Account on Quicken.com. 
If you're not signed up for auto-renew, you can purchase another membership term and activate this in your existing Quicken version to extend your subscription membership.  You can also add more time to your existing Quicken membership by purchasing another subscription for Quicken.  Whenever you purchase a new Quicken membership, the time remaining on your current membership is added to the new one.
If you purchased from Quicken.com
Add your preferred version of Quicken to the shopping cart.
Sign In with your Quicken ID and complete your purchase.
Your new subscription expiration date and product version will appear under the My Account page on Quicken.com for download.
Purchases from a retailer (not Quicken.com) – a boxed version or download
Purchase the Quicken version you want to use.  If it's not the same version (for example, you have Deluxe but want Premier, or vice versa) Quicken will pro-rate your existing membership and apply it to your expiration date.
Get your activation code.  If you purchased a download of Quicken, you'll receive this in an email; if you purchased a CD/Disc, the activation code will be printed in the box.
Open Quicken.
Go to Help > Activate Product Key (Windows) or Quicken > Enter Activation Code (Mac)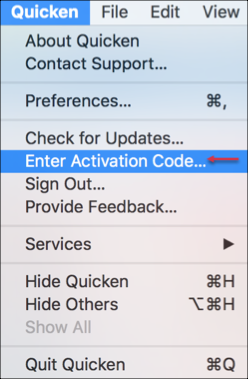 Windows                                                                       Mac
Click Begin Activation.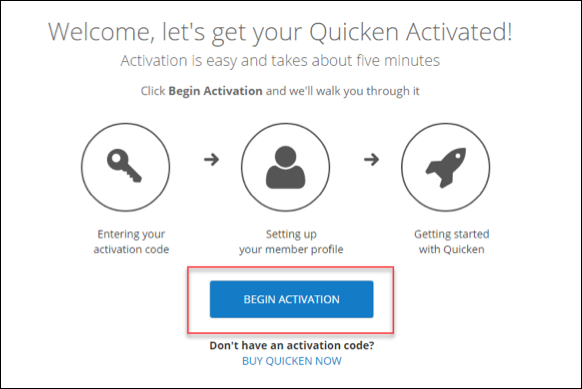 Enter your product key then click Activate Membership to complete activation.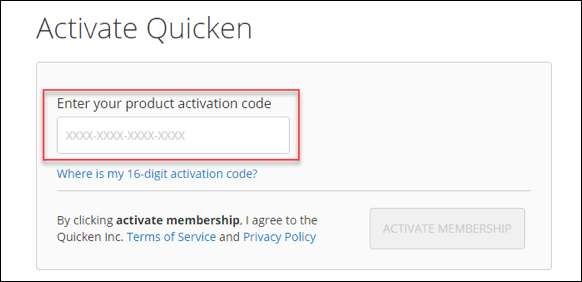 After you enter the product activation code, Quicken will open and you will see your new membership end date under Help > About Quicken (Windows) or Quicken > About Quicken (Mac).