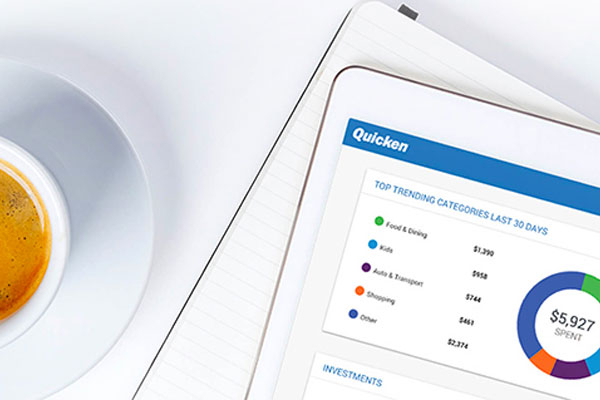 Top 5 Power-user Tips for Quicken Members
December 13, 2019

3 MIN READ
At Quicken, we want you to get every ounce of value out of your membership. So we challenged our team to find the most underused features—the very best tips and tricks you might not know you have. 
1. Use our web app when you're on the go
Whether you're working late at the office or visiting family for the holidays, you can't always be in front of your own computer. Thanks to our web app, that's not a problem. 
Choose the accounts you'd like to sync, and you can view those accounts on any browser, anywhere in the world. All you need is internet access.
Like our mobile app, the web app lets you keep an eye on your finances when you're on the go, but it has a few additional features. Like customizing the dashboard, changing your membership address, or upgrading your plan.
If you need to use these features but you only have your phone, that's okay too. Use your phone's browser to visit the web app, and you can use the web app features the same way you would on a computer.
2. Mobile app tips and shortcuts
Our mobile app for phones and tablets makes it even easier to control your finances. We add new features all the time, but here are a few of our favorites so far:
If you're adding new purchases manually, try doing it while you're still in the store. When you start adding the payee, a list of nearby merchants pops up. Choose one to save yourself some typing!
Enter transactions as you spend, even if you don't have internet access. The app will remember them and sync your data when you're reconnected.
Tired of carrying around receipts? Use our mobile app to snap and store a picture of each receipt, right in the app!
3. It's like a time machine for your finances
You probably know about bill reminders, but did you know you can enter all your recurring transactions into your reminders, including income? Use those reminders to look into the future, up to 12 months ahead.
See how your balances are expected to change, and adjust your spending, or your savings, as much as you need. Create a 12-month budget, right in the app, that you can follow through the year to keep all your future goals on track.
If you have a Windows membership, use our lifetime planner to project your income, spending, and net worth beyond retirement. Model life events (like college tuition, or buying a home) based on your actual data, and take charge of the future. 
4. Take control of your mortgage
Whether you already have a mortgage or you're considering one up ahead, our mortgage planner lets you model a whole host of future scenarios to find the best one for you.
See what happens to your payoff date and total interest if you increase your monthly payment, or if you make a lump-sum early contribution.
You can even set a target date for paying it off, to find out how you can make that happen within your own ideal timeframe.
5. Make tax reporting a snap
No one likes doing their taxes, but Quicken members have it easier than most. Use the app to create tax reports automatically for Schedule A, B, C, D, and more. Then print those reports, export them digitally for your accountant, or send them straight to TurboTax.
Better yet, members never need to worry about changes in the tax code. Your membership is always up-to-date with the current reporting rules and regulations, not to mention all our newest and most powerful features!