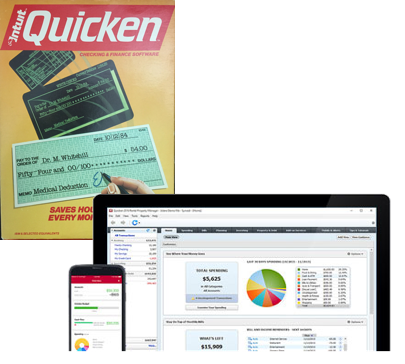 It all started back in 1982. Scott Cook was watching his wife pay bills and balance the household checkbook at their kitchen table, and saw her frustration with how tedious the process was. He thought there had to be a better, easier, and faster way to manage household finances. And with that, the idea for Quicken was born.
After conducting extensive interviews with consumers, Scott and his co-founder Tom Proulx developed Quicken, with the goal of simplifying the process of managing finances while using a metaphor (checkbook register) that was familiar to consumers. Quicken 1.0 for DOS launched in 1984; and by 1988, Quicken had become the #1 selling consumer software product.
Since then, Quicken has transformed the financial lives of millions of consumers, and remains the top personal money management software. True to our roots, our team continues to be focused on delighting customers and working hard to make the Quicken product & experience better than ever. We are passionate about our products and are all avid Quicken users. We truly believe in our product and are deeply committed to helping our customers improve their financial lives.