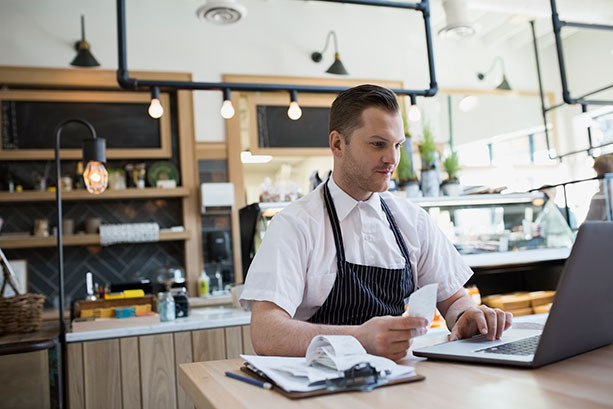 Best Online Budget Planners For Your Small Business
Written by Ron Weber

3 MIN READ Work Investments
Whether you're an entrepreneur or managing a business with a small staff, online budgeting software isn't a nicety, it's an essential. "Using budgeting software minimizes mistakes when you're collaborating with multiple people," says Amber Berry, owner of Feel Good Finances and Certified Financial Education Instructor based in Sacramento, California. According to Berry, "If you're using pen and paper, it's just way too messy." Choosing the right online budget planner can seem pretty intimidating, especially if you're just launching a business or budgeting your finances for the first time. Here are just some of the benefits of choosing Quicken Home & Business.
Focus on Accessibility
Online and cloud-based budgeting planners have one major advantage — they're easily accessible to everyone on your financial team at the same time. You'll be grateful for an online planner anytime you need to make a major financial decision or plan for tax time. "It just makes your accountant's or bookkeeper's life easier if you can collaborate digitally," says Berry.
Quicken Home & Business allows you to easily share budget information with your financial team, co-owners and staff, so that everyone's on the same financial page — literally. It syncs with the Quicken Home & Business app on your mobile device to live-update your information anywhere, and it stores manual entries even when you're not connected to a network.
Look to the Future
The power of an online budget planner makes it easy to calculate projections for the health of your business. Your ability to visualize long-term financial trends shapes your business' growth. For example, Berry notes that budget reports aid in determining if you're financially ready to hire additional staff, and help you plan for loans or credit required to grow your business. Budget planners use your budget information to create profit and revenue projections, and analyze cash flow to help you assess your short- and long-term financial health.
Get Support for Tax Time
Online business budgeting has some straightforward tax benefits, too. Quicken Home & Business keeps track of revenue and expenses all year long, so you don't need to spend hours number-crunching come tax time. Planners that allow you to store photos of business receipts provide added convenience, according to Berry. Quicken Home & Business includes an easy "snap and save" feature to store receipts, and the planner easily analyzes other deductions (like home office supplies) for use in tax preparation.
Seek Simplified Financial Planning
Tracking your personal finances with an online planner is just as important as tracking small-business budgeting. A combined business and home planner is most efficient, since all information is stored within the same app and you can easily hand both accounts off to your accountant or tax advisor at tax time.
An online planner like Quicken Home & Business allows you to manage both your personal and business finances. It keeps your accounts separate to avoid errors or confusion and allows you to easily access all accounts for streamlined budgeting. After all, the most important benefit of an online budgeting app is to make financial planning easier, so you can focus on running your business.