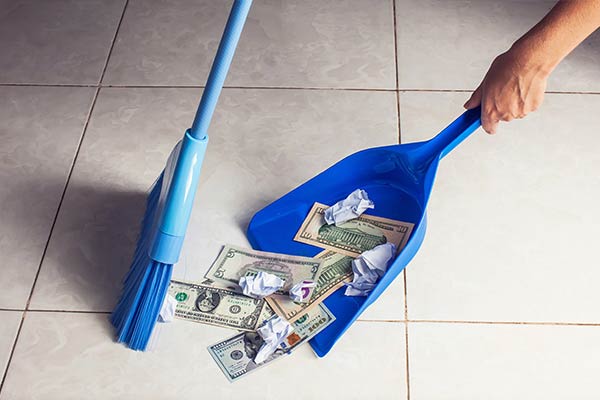 How to Spring Clean Your Finances
Written by Craig TsuchiyaApril 1, 2020

5 MIN READ Personal Finance
While the end of the year and subsequent new year's resolutions may be one of the most popular times to review your personal finances and set new goals, it's important to check in throughout the year. The start of spring aligns with the end of the first quarter of the year, a good point to spend a few hours and spring clean your finances. After you're done with the household chores, that is. 
Revisit Your Goals
The goals you set at the beginning of the year might not make sense anymore—and that's OK. Extraordinary circumstances call for flexibility, and you may need to set new goals based on your current situation.
Perhaps you need to rebuild an emergency fund, pay down debts, or start a job hunt. Use the start of spring as a transition point. Even if you updated your budget at the start of the year, you may need to revise it again to align with your new goals. 
Look Over Your Debts and Opportunities
Low interest rates can open up new opportunities. If you're paying down debt, it may be an ideal time to refinance a loan or take out a personal loan to consolidate high-rate credit card debt. 
You could also consider how low rates affect your aspirations to own an investment property. Or, if you already have a rental property, perhaps it's time to add another to your portfolio. 
Rebalance Your Investment Portfolio
Turbulent markets may have thrown your asset allocation out of line. While you don't need to rebalance your portfolio every day, you may want to examine it when the market settles down. Tracking your investments can help limit your risk and improve your overall returns. 
If you don't manage your own portfolio, consider how your financial planner has communicated with you over the last several months and whether you might want to make a change to someone else. 
Review Your Monthly Bills
It can be easy to think of recurring bills as a relatively fixed expense. But taking the time to figure out ways to lower these regular expenses can lead to significant savings in the long run. 
Utilities: You may want to look into weatherization improvements, such as fixing leaks or adding insulation that can make heating and cooling your home more efficient (and therefore less expensive) throughout the year. Also look into the net cost of purchasing and installing solar panels after local, state, and federal incentives and tax credits are factored in. 
Insurance: No one loves shopping for insurance, which is why it's a task that often gets put off. Start by contacting your current insurance company and see if you qualify for any new discounts based on recent life events, lifestyle changes, or improvements to your home or car. Then, get a few quotes from competitors to see if you can save.
Subscriptions: Cutting the cord was the go-to advice several years ago, but the wide range of streaming and subscription services means you may be overpaying even if you stopped paying for cable. For some households, keeping cable and cutting back on other subscriptions may actually be the better option. In short, evaluate what you're paying for and what you're using, and then cut the fat. 
Compare Your Financial Accounts to Current Offerings
You may have stuck with a bank or credit card for years, and it might have been the perfect account for you when you opened it. But your financial situation changes over time and financial spring cleaning is a great time to reevaluate. 
Consider the current lineup of rewards credit cards, checking accounts, and savings accounts to figure out what might be best for you today. Consolidating may also be a good idea. 
For example, if you meet account balance minimums (which may include balances from brokerage and retirement accounts), some banks offer waivers on account fees, discounts on loan interest rates, or more rewards when you use one of their eligible rewards credit cards. 
Search for Unclaimed Funds
Government agencies are holding onto a billion dollars of unclaimed funds and are waiting to return them to their rightful owners. Perhaps you quit a job and never got a last partial paycheck or transferred your pension. Maybe a relative passed and left you money (but you didn't know to collect it) or you had an account at a bank that failed.
You can check for unclaimed funds at different state websites. Check each state where you lived, as the funds could be under an old address. Some federal agencies, such as the Internal Revenue Service or Veterans Affairs, hold on to other types of unclaimed funds—tax refunds and insurance funds.
Look for Errors on Your Credit Reports
Keeping an eye on your credit is always important, but you want to be especially mindful if you took creditors up on an offer for delayed or lower-than-usual payments during the coronavirus pandemic outbreak. 
Look for late payments or other negative marks that are on your credit report. (For credit-reporting purposes, you're not "late" until 30 days after the due date.) If you see an error, you can file a dispute with the credit bureau, and it must investigate. 
Schedule Your Next Check-In
As you wrap up your financial spring cleaning, add another check-in to your calendar for a few months from today. Make a note of anything you want to keep an eye on, such as specific budget categories, rates, investments, or disputes. Then, focus on implementing the tasks you identified.