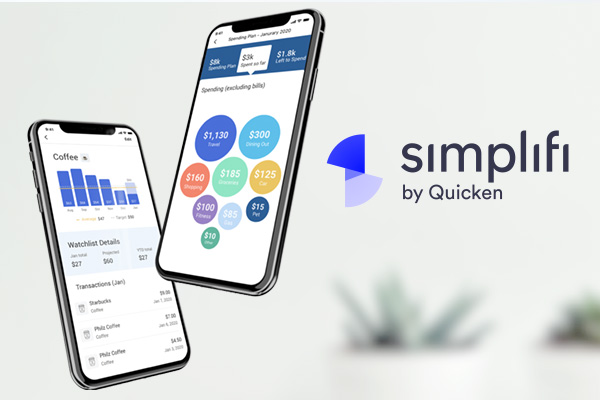 Introducing Simplifi by Quicken: The New Personal Finance App
Written by John WorleyFebruary 7, 2020

5 MIN READ
For more than 30 years, Quicken has offered its customers ultimate financial control. Today, we're proud to announce Simplifi by Quicken, the new personal finance app for mobile and the web that's helping the next generation stay on top of their finances.
What is Simplifi by Quicken?
Simplifi by Quicken is a personal finance management app that offers a comprehensive yet simple way to see a consolidated view of all your accounts, track your day-to-day spending, and achieve your savings goals. 
We created Simplifi by Quicken to meet the needs of people looking for a fresh approach to managing their finances and developing healthy financial habits. Nobody wants to be inundated by third-party ads or nagging reminders from an app that can't adjust to your specific needs. Simplifi by Quicken provides an ad-free, customizable experience, with goals that you set up for yourself to help you stay on track.
How Is Simplifi Different from Quicken?
Quicken has been the #1 personal finance brand for over 30 years. Our premier personal finance software offers complete control for the most demanding financial needs, from long term retirement planning and detailed reporting to the active management of complete investment portfolios. In the last 3 years alone, our commitment to improvement has led to over 500 customer-requested enhancements.
Today, Simplifi by Quicken builds on those decades of experience. This brand new personal finance app handles many routine tasks using smart automation while still providing a high level of customization. It's especially helpful for those who are just getting started in their financial journey or who don't need the level of detailed oversight that Quicken provides.
*Refer to feature table below for a detailed head to head comparison of Quicken vs. Simplifi. 
How is Simplifi Similar to Quicken?
Simplifi is designed to the same high standards for financial management, connectivity, security, and support.
Financial Management
A comprehensive dashboard with your full financial picture
Projected future balances based on past income and spending
Customizable categories, tags, notes, and reports
Connectivity
Connections with more than 14,000 financial institutions
Download transactions & modify them however you like
Live investment tracking for connected accounts
Security & Support
Trusted security to protect your financial data
Face ID, Touch ID, and passcodes for personal authentication
Dedicated phone and chat support
How is Simplifi different from other personal finance apps?
CUSTOM WATCHLISTS: Stay on top of your spending the way you want to, not according to a one-size-fits-all plan. Use our helpful insights and your own spending limits to reach your personal financial goals with confidence.
COMPREHENSIVE & INTUITIVE: With Simplifi, you get the best of both worlds. Get a consolidated view of your bank accounts, loans, credit cards, and investments in a dashboard that's clean, simple, and easy to understand.
FLEXIBILITY: Simplifi is designed to let you see your finances the way you want to. Set up your own categories, limits, watchlists, and spending plan without getting bogged down in the details. It's the app that's tailor-made just for you. 
A POSITIVE APPROACH: Simplifi's glass-half-full attitude helps you meet the goals you set, encouraging you along the way and celebrating your success.
MOBILE AND WEB: Simplifi is available on the web as well as on mobile devices. Switch seamlessly between the two and enjoy all the same features.
NO ADS: Simplifi delivers a transparent, ad-free experience, with everything you need in one place so you can focus on reaching your financial goals.
Help Others Get Started
If you're already using Quicken, chances are good that you're a trusted source of financial advice for your network of family and friends, guiding the young adults in your life to develop healthy financial habits. 
Simplifi users can sign up for a 30-day trial. If they cancel at any time before the end of the trial period, we won't charge them a thing. If they decide to stick with Simplifi to achieve their financial goals, monthly plans cost less than a cup of coffee, or they can pay annually for even more savings.
If you have friends or family who might benefit from Simplifi by Quicken, please refer them to SimplifiMoney.com, or invite them to download the app directly from the App Store or Google Play.
*Side-by-Side Feature Comparison
|   | Category | | |
| --- | --- | --- | --- |
| 1 | Track Spending | See where your money goes with highly customizable reports. View, print, or export those reports to Excel. | See where your money goes with spending trend reports. Create spending watchlists based on payee, categories, or tags. Monitor only what's important to you. |
|   | Budgeting | Comprehensive, category-level, 12-month budgets. Customizable budget reporting. | Auto-generated spending plans are based on your actual bills and income. Automatically know what's coming up and how much you have left to spend each month. |
|   | Savings Goals | Track your savings account balances. Set up Savings Goals** for long term planning. (*Windows only) | Quickly calculate how much you can save and set a goal to start putting money aside. Set up short-term or long-term goals and easily track your progress. Use your existing savings account—there's no new account setup and we won't move your money. Only move funds when you want to. |
| 2 | Investing | See your complete portfolio with detailed performance tracking: cost basis, custom lot assignment, and tax impact of gains and losses. Track private equities and non-exchange-traded investments. | See your complete portfolio at a high level. Monitor total portfolio values, holdings, and day change. |
| 3 | Tax preparation | See tax schedule reports. Export tax information to tax pre-prep software like TurboTax. | Track tax-related income or spending via trend reports or watchlists. Export specific transactions to csv. |
| 4 | Account reconciliation | Review new transactions and reconcile your accounts against a paper statement or online balance. | See recent activity including pending transactions. Drill down into accounts for details. |
| 5 | On the go access | Option to work online or offline. Desktop application (PC or Mac) syncs with web and mobile companion apps at your discretion. | Available on mobile and on the web. |
| 6 | Data import | Import data from past Quicken files (Windows: 2010 or later. Mac: 2007 or later.) | Simplifi is a new product optimized for use on mobile and web and does not import Quicken files. |
(**Windows only)
Want to know more? Visit our website to learn how Simplifi works.