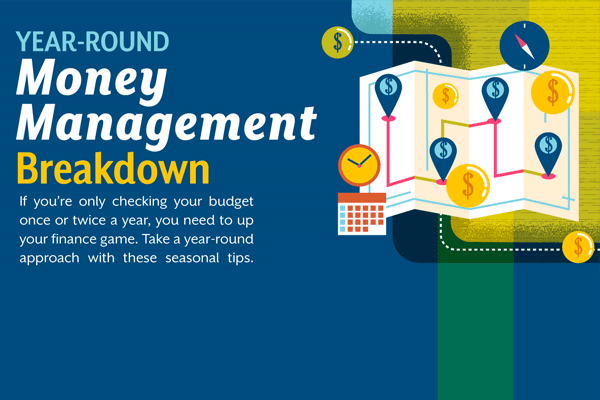 Year-Round Money Management Breakdown [Infographic]
March 16, 2017 | Ron Weber Budgeting
Year-Round Money Management Breakdown
If you're only checking your budget once or twice a year, you need to up your finance game. Take a year-round approach with these seasonal tips.
Winter
Audit Your Expenses: Use budgeting software like Quicken Starter Edition to examine your spending habits from last year. See where you can trim excess spending.
Save Big, Save Early: Set up automatic transfers to savings accounts for retirement and emergency savings, as well as accounts for your other personal goals.
Spring
Plan for Tax Time: Decide early what you plan to do with a refund (like savings or debt repayment), then organize your documents and receipts for tax prep. 
Start Your Travel Fund: Dreaming of a warm-weather getaway? Start diverting money from entertainment into savings each month to fund a summer trip.
Summer
Conduct a Mid-Year Audit: Make sure your savings, expenditures and tax withholdings are in line with your goals — and make any required adjustments now.
Plan Home Maintenance: Collect quotes and set up extra savings to cover any repairs or upgrades you may need to do in the winter months.
Autumn
Budget for Back to School: Books and school supplies don't come cheap. Set some extra funds aside for educational expenses, or to save for education costs in the future.
Use Credit Responsibly: The holidays can be a cash crunch, so it's tempting to pay with plastic. Budget early, and only use credit to spend money you already have.