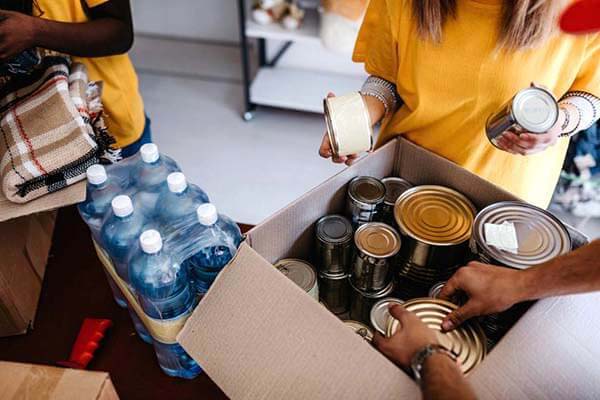 Celebrating the Quicken Community
May 5, 2020 | Craig Tsuchiya
Quicken members respond to the COVID-19 pandemic with an outpouring of hope and help in their communities
For 30 years, our Quicken customers have consistently impressed us with the depth and breadth of their collective knowledge, insight, and resilience. Your response to the COVID-19 pandemic has been everything we knew it would be and more, reaching out to each other and to your communities in this time of need. 
We know that many families and businesses are struggling, through no fault of their own, due to this unprecedented event. For those who find themselves in uncharted territory with their home finances, employment, or small business, we've put together a page of key resources that can help—in providing for your own family and in reaching out to others.
More than ever before, we at Quicken have been inspired by the response we've seen from our members as they meet this new challenge with perseverance, resolve, and compassion.
For those who are on the front lines of the medical crisis, risking their lives every day to serve their communities, we thank you. And for those who are making personal choices every day to flatten the curve and protect the lives of friends, neighbors, and loved ones, we thank you as well. Thank you for taking care of each other.
Recently, we asked our members what they've been doing during this time. Without exception, you told us that you've been finding safe ways to help each other, to interact with each other, and even to have a little fun, lifting our own spirits along the way.
From calling and checking on those who live alone, to the 81-year-old woman who organized her own meal delivery program in her local area, these are your stories. Thank you for being members of the Quicken community.
Supporting the medical community
1. Making masks
Many of our Quicken members are making masks for medical personnel and anyone else who needs them—from breaking out that old sewing machine to learning for the very first time.
2. Machining face shields
A machine shop owned by one of our Quicken members reached out to their network for new materials, repurposing equipment to make medical face shields for hospital staff.
3. Providing medical briefs
At least one retired Quicken member has been poring over medical journals and daily CDC updates, using that knowledge to brief practicing medical staff with new, critical information.
"I haven't sewed for many years, but got out the machine, cut out masks and made them for family, friends and neighbors! As a retired health care worker, I felt this was the least I could do. I am immune-compromised so could not volunteer in a health faculty. I have so much respect for all who are helping us stay healthy."—Judy
Volunteering
4. Giving blood
The need for blood donations is high, and Quicken members are stepping up to the plate. Donations from those who have recovered from COVID-19 are helping to save lives.
5. Volunteering at food banks
Food banks are more vital than ever, but volunteering for any public-facing service is a high-risk proposition. Still, our Quicken members keep showing up every day, ready to help.
6. Creating meal programs
One of the most prevalent themes we've seen in the Quicken community is a concern for others who are at high risk, picking up groceries and providing meals for those who need to stay home.
"I'm a registered knitter for the Knitted Knockers organization and have been spending time knitting these free breast prosthetics for women who have had mastectomy surgery. These will be given to our local breast care center."—Wickie
Helping the elderly
7. Picking up supplies
Although COVID-19 survivors can be as old as 104, our seniors still face an elevated risk. Many Quicken members are visiting stores for groceries & prescriptions to help the elderly stay home.
8. Jump-starting vehicles
As seniors remain at home, the batteries in their vehicles can sometimes need a boost. Quicken members report jump-starting and idling those cars to keep them ready for emergencies.
9. Connecting them with resources
Seniors aren't always aware of all the online services they have available. Our members have been quick to connect their older neighbors with resources like Zoom and Nextdoor.
"Our elderly and unwell neighbors are dear to us! Whenever I am going to make a grocery run, I check to see what I can pick up for them."—Greengal54
Supporting local business
10. Ordering contactless delivery
One way many Quicken members are supporting their communities is by ordering contactless delivery from restaurants, groceries, and other local businesses to help keep them afloat.
11. Paying service providers
The Quicken community is profoundly aware of the impact COVID-19 is having on service providers, continuing to pay landscapers, daycare providers, and others who can't work during stay-at-home orders.
"My wife works as an in-home daycare provider and two of her families are not bringing their children as they are not essential workers, but they are still paying her. We decided to use that to pay it forward to our son's preschool and pay for his final month and an extra gift to the teachers."—DNathan13
Sharing knowledge
12. Creating online courses
Some Quicken members are creating online courses and curricula for students who are finishing out the school year at home—for use by both parents and teachers.
13. Gardening for at-risk neighbors
This spring, gardens are popping up everywhere as people spend more time outside at home. At least one Quicken member is helping at-risk neighbors grow their own vegetables.
14. Providing tech coaching
Several of our Quicken members are helping friends, family, and coworkers navigate online technologies as they learn to work and connect with each other remotely.
"I teach at a technical college with a primarily hands-on learning curriculum. The education department, of which I am a part, developed an online curriculum for our students in 9 days with the intent of getting them through as much of the courses as possible off-campus. We now have 144 courses online for our students."—Lfranci1
Forging connections
15. "Visiting" with veterans
At least one Quicken member has made arrangements with staff at a local VA hospital to use FaceTime to "visit" with veterans who don't have family members.
16. Sparking creativity
Here's a fun personal project: leaving driveway chalk outside to help the neighbor kids enjoy some safe outdoor time. "The results are fun," this member said. We bet they are!
17. Building online fun
Some Quicken members are building online activities and games, including trivia contests, to help people have a little fun together while observing social distancing.
"As a 20-year+ Guardian I work with the Veteran community in North Texas. Many are without family support, some are in long-term memory care facilities. I have made arrangements with the staff of one of the largest in Ft. Worth to "visit" with patients via FaceTime; it is therapeutic in both directions. :)"—Eddie
Staying in touch
18. Calling friends and family
It's easy to forget how much of a difference this can make, especially for people who live alone. Sharing funny stories and the things we're grateful for can put a smile on their face and yours.
19. Gathering online
From group calls and virtual conferences to online video games, Quicken members are gathering friends and even reconnecting with people they'd lost touch with over the years.
"My flowerbed is flourishing and I love sharing my bounty. I have dropped off several bouquets at neighbors' doors."—Carrie
Providing financial support
20. Buying groceries
We've heard from so many of our Quicken members that they're helping others wherever they can, buying groceries and medicines for neighbors, and meals for first responders.
21. Making donations
Quicken members have continued to make donations to hospitals, food banks, and nonprofit organizations across the country, even dipping into their own savings to provide that support.
You are our inspiration
When we asked our Quicken members how they've been spending their time during the COVID-19 pandemic, we never imagined the depth and breadth of the replies we would receive. 
With each new response, we have been enheartened, encouraged, energized, and inspired. Thank you for joining us as we celebrate the Quicken community.