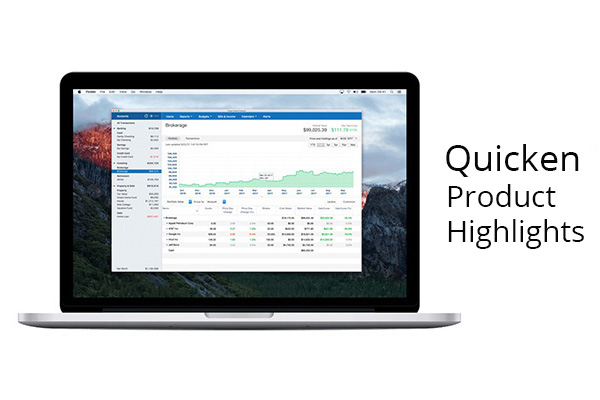 Quicken Product Highlights September 2020
Written by Craig TsuchiyaAugust 28, 2020

3 MIN READ How-to
At Quicken, we're always working to develop new tools and features to help you take control of your finances and manage your money with confidence. This month, we're thrilled to highlight two new Quicken features: Simple Investing in Quicken for Windows (now in beta), and the ability to budget transfers in Quicken for Mac.
New in Quicken for Windows: Simple Investing (beta)
Quicken has been under continuous improvement for more than 3 decades. Needless to say, it's grown pretty powerful. Today, many of our customers depend on Quicken's full suite of complex investing tools and features, and we're proud to provide it. 
But some people prefer simplicity—the elegance of a clean dashboard that provides a bird's-eye view, showing you exactly what you need to know, and nothing else.
If you don't feel the need to keep track of separate investment lots, capital gains tax implications, or individual buy/sell transactions, Simple Investing might be just what you've been wanting.
Simple Investing takes the complexity out of monitoring your investments, only keeping track of your investment positions over time (the number of shares you own), and your cash balances.
Instead of an account register, Simple Investing provides a high-level Account Summary that includes your portfolio value, net worth, day change, and investment returns over time. 
Believe it or not, developing an easier way to track your investments is not an easy task. That's why we're offering it to you early, as a public beta. 
If Simple Investing sounds like it might be right for you, read our full Simple Investing post for more details about how the beta works and how to turn it on so you can try it for yourself! 
New in Quicken for Mac: Budget Transfer Feature
Over the past few months, The Quicken for Mac team has been working hard on improving budgets for Mac and implementing new features. In v5.17, we introduced the ability to select the specific accounts you want to include in a budget. 
Why would you want to select specific accounts? Quicken offers the most customizable personal finance software on the market, and our customers are constantly using that capability to develop their own ways of tracking their finances.
They might create a separate budget for a parent, child, 501(c)(3), or other organization. Or they might connect an aging parents' retirement account to help them oversee those assets. But they don't want to include those accounts in their household budget! 
The ability to select only the accounts you want makes it easier for Quicken users to create separate budgets while taking control of their own finances.
In our upcoming release, v5.18, we're taking that budgeting ability one step further. Now, you'll be able to budget transfers between one account and another.
Maybe you want to track direct deposits from your personal account into your savings and retirement accounts. Or maybe you want to track your withdrawals from those accounts once you've retired.
You can also track transfers into a vacation account, a child's account, a parent's account, or any other account that you don't otherwise track.
To use the budget transfer feature, first go to your budget. Select Edit Budget, and then choose Select Category. Now, you'll see new categories for Transfers In and Transfers Out, where you can select specific transfers to track in your budget.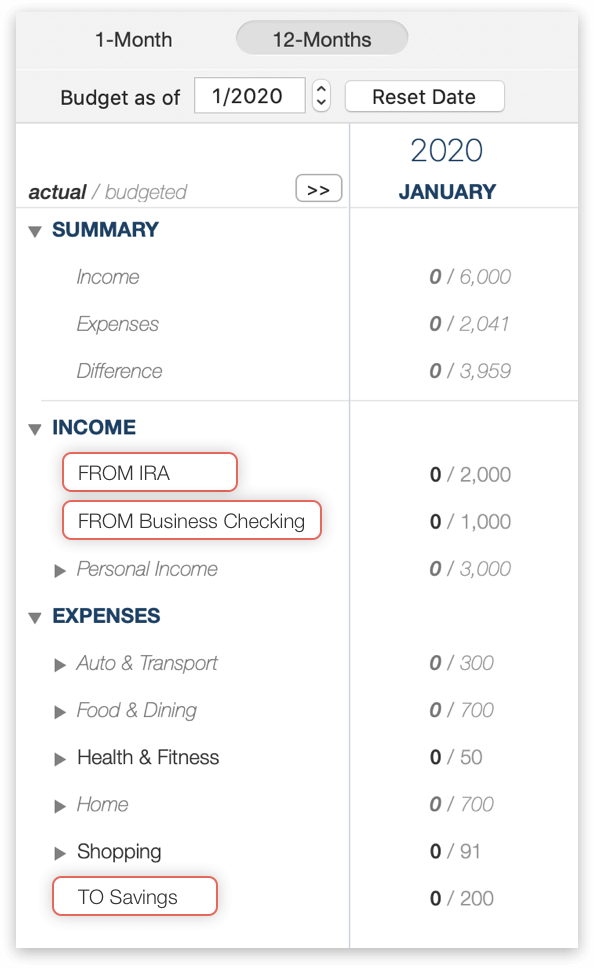 To share your own unique tips and tricks for using Quicken, join our Quicken Community forums.