Written by Craig TsuchiyaJune 15, 2020

5 MIN READ How-to
Quicken is a powerful personal finance tool with a wealth of features. There are so many features that it is easy to miss many of the things you can do. To help you find new ways to use and improve your Quicken experience, we've assembled a number of tips. You'll find tips here for both beginners and power users. The more you know, the better your Quicken experience will be.
Getting the latest transactions is as easy as OSU
Did you know you use One Step Update (OSU) to add the latest transactions from your bank into Quicken? OSU contacts all of your financial institutions and gets the latest transactions. If you are using Quicken for the Web or Quicken Mobile, it also syncs your transactions with those Quicken versions. Be sure to use OSU before and after every session.
How to search all of your transactions
You can use the search feature to find transactions for a specific amount, payee, category, tag, memo, date, check number, or any other column that is visible in your register. For the most effective search, select All Transactions from the Account Bar. Use the search field on the right side of the screen to search for transactions. Remember that the search will only review the columns that appear on your register.
Did you know Quicken for Mac starts where you left off?
When you finish a session in Quicken for Mac, the program remembers what page you were using, whether it was the register, a budget page, a spending page, or even a report. Whatever page you were on when you closed Quicken will be the first page you see when you open Quicken the next time.
Use Import to get more than 90 days of transactions
Did you know that Quicken can only access your most recent 90 days of transactions from your financial institution (FI) when you add an account?
Some FIs support downloading transactions that can be imported into Quicken. You can use that option to import past transactions into Quicken. Users often want to have at least the current year's transactions to start with. You can find the list of FIs that support downloading transactions into Quicken on the support site.
Make more room by collapsing your account bar
Sometimes it can be hard to fit all the financial data you want on a single screen, especially if you are working from a laptop computer. To help with this, Quicken for Mac provides you with a way to collapse your account bar. To collapse or expand the account bar, select the
 on the top of the account bar. To expand the account bar, select
 on top of the account bar.
Do you love keyboard shortcuts?
Keyboard shortcuts make navigating through Quicken faster and easier. We have many keyboard shortcuts that can help you get straight to where you need to go. Here are some popular shortcuts. For a full list, look up Keyboard Shortcuts in the help.
| Action | Keyboard Shortcut |
| --- | --- |
| Quicken Preferences | ⌘, |
| Page setup | ⇧⌘P |
| Minimize Quicken window | ⌘M |
| Hide Quicken | ⌘H |
| Update all online accounts | ⇧⌘U |
| Update selected online account | ⌘U |
| Sync to mobile | ⌃S |
| New transaction | ⌘N |
| Edit transaction | ⌘E |
| Mark as paid | ⌘R |
| Mark as reviewed | ⌥R |
Add or Remove Columns from your Register
When you start using Quicken for Mac, your register comes with a set of default columns such as Date, Payee/Security, and Category. Did you know that there are actually many columns to choose from? To see a list of columns, right-click on any column heading to bring up the columns list. Some popular columns you may want to consider adding are: Memo, Tags, Check #, and and Type. You can use the same feature to remove columns you don't needs to see. Remember that when you search your register, the search only reviews the columns that appear on your register. If you choose to hide a column, the information in that column will not appear in your searches.
Did you know you can quickly find matching transactions?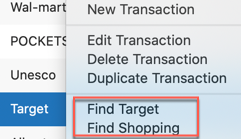 Have you ever looked at a transaction in your register and wanted to see other transactions from the same payee or in the same category? There's a quick way to do that. Just right-click on the transaction. You'll see a list of options, including the option to find the payee or the category. Select either of those and the register will list just the matching transactions.
Did you know you can bulk edit transactions in the register?
Do you ever need to update a lot of transactions at once? Maybe you'd like to change the category for a group of transactions? Or maybe quickly add the same tag or note to a group of related items? This is actually very easy!
First, find the transactions you want to change. For example, if you want to update the category for a given payee, you could first sort by Payee and then multi-select all the transactions with that payee name. (Tip: choose the "Banking" item in the account first to get transactions from multiple accounts).
To multi-select a group of transactions select the first transaction in the range, then hold down Shift and select the last transaction in the range.
Once you have selected the transactions, choose Transaction > Edit Transaction from the menu (or just type ⌘E). This will bring up the multi-edit window. Here you can edit the Payee, Category, Tag, Transfer account or Note. The change will be applied to all the selected transactions! Click OK to make the change.