Try our FREE budget calculator
Monthly Income
$

0

Housing
$

0

Transportation
$

0

Educational
$

0

Personal
$

0

Savings
$

0

Monthly Expenses
$

0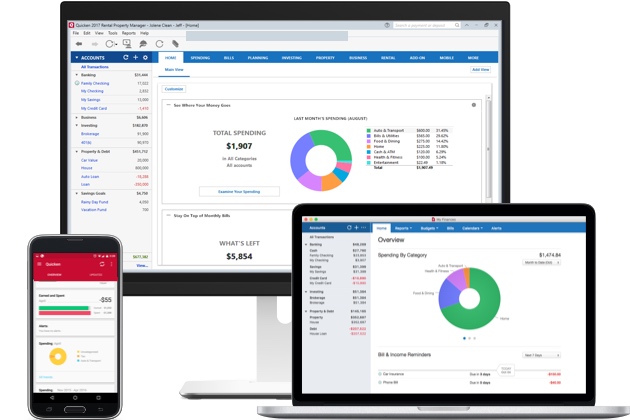 We're here for every step.
Choose the right Quicken for you.Whether you want to stay on budget or on top of your investments, we make managing your money a snap.

COMPARE QUICKEN PLANS
Free Budget Calculator
When it comes to personal finance, it's best not to play the guessing game. Sometimes the easiest way to manage your monthly budget is to visualize it. With Quicken's budget calculator, it's easier than ever to manage your finances.
Getting Started: Put Together a Budget
Take the time to add up your total monthly income from all sources and list your regular monthly expenses to create a monthly budget. Categorize expenses in groups to make the process simpler. For example, include mortgage payments or rent as well as utilities when you list an amount for housing. Transportation includes not just your car payments but gas, insurance, registration and repairs as well. Quicken's Free Budget Calculator gives you a boost toward getting this done by doing all the math for you.
Review Where Your Money Goes
One benefit of building a budget is that it forces you to track your spending and see in black and white (or in this case—color) where your money goes. This kind of expense-tracking exercise shows how even little costs add up.
Realize Your Goals
Creating a budget forces you to reevaluate your goals and priorities. If you aren't saving money for the things you plan to do, you aren't likely to do them. For example, rather than fantasize about buying a home or going back to school, include contributions to funding these goals in your monthly budget.
Emergency Planning: Prepare for the Unexpected
You can prepare for the unexpected by creating an emergency fund with sufficient cash to carry you through hard times. Your emergency fund should contain enough money to pay your bills for three to six months. Make your "emergency fund" a budget item and contribute small amounts monthly until the fund is large enough to serve as a safety net.