How to File Your Own Taxes
Written by Quicken

4 MIN READ Filing & Preparation
A big myth about filing your own tax return is that the process is too complex for anyone other than an expert to handle. Although there's no question that the U.S. tax code is extensive and very specific, the reality is that most taxpayers have simple tax situations and the Internal Revenue Service provides updated instructions annually. With some care and planning, you can file your own taxes with confidence.
Check Your Tax Filing Requirement 
Your gross income — meaning your total personal income before taking taxes or deductions into account — must meet certain rules and levels before you're required to file a tax return.  A single person under the age of 65 with a gross income of less than $10,150 was not required to file a return for the 2014 tax year. Income requirements are different for seniors, heads of households and dependents with income. 
Even if your gross income falls below the filing threshold, you may have to file for other reasons, such as to include income from self-employment, because you received tips not reported to your employer, or for health insurance reasons. Filing a return when you don't have to may qualify you for tax credits and possibly a refund of any withheld taxes.
Collect Necessary Tax Information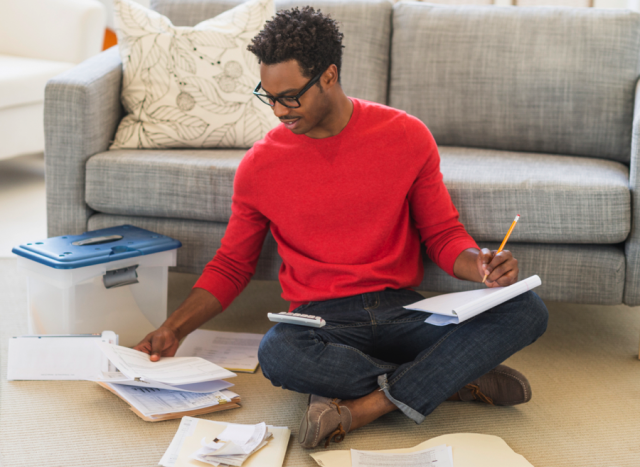 Gathering the appropriate paperwork might be the hardest part of the tax return process, but if you're a filing wizard, it's not that hard at all. The big document at tax time is the W-2 you receive from your employer. Other forms and documents you may need include: 
Your previous year's tax return

1099 forms showing self-employment, stock trading, interest or dividend incomes

1098 forms showing interest on student loans or mortgages

Receipts and acknowledgements for charitable contributions

Documents showing contributions to 401(k) and individual retirement account plans

Supporting receipts and documents for any itemized deductions you might claim 
Choose a DIY Tax Method 
If you're the calculator-and-pencil type, you can print forms from the IRS website or pick up a package at your local library. There are three standard tax return packages:
The 1040EZ is for people with under $100,000 in total income and no deductions. The typical user is young, in school or does not own a house. 

You move to the more complex 1040A form if you must add an IRA, stock investments or want to claim certain tax credits. 

The 1040 is appropriate if your income exceeds $100,000, if you have one or more businesses, or if you choose to itemize deductions rather than take the standard deduction.
Check Important Tax Dates 
March 15 was the due date for taxes until 1955. April 15 has been the deadline since then. In 2016, the date is Monday, April 18 for personal returns, as well as for C corporation and estate returns. Partnerships and S corporations have a deadline of March 15. If you're living and working outside the U.S., you have until June 15 to file.
Choose a Deduction Method 
The IRS allows you to take a standard deduction amount instead of collecting and sorting receipts all year. The amount changes annually. A married couple filing jointly can deduct twice the amount a single person does. If your actual receipts are higher than these amounts, it may make sense to itemize your deductions, like large charitable donations or uninsured medical expenses. The IRS publishes a detailed list of qualifying expenses on its website.
Begin Your Tax Return 
Thanks to the digital age, more people are filing their taxes online, or using online tools to streamline the process, like TurboTax. The federal government also a program called Free File to give some taxpayers access to free tax prep forms and software. Even commercial software packages offer free options if your tax situation meets certain conditions. Buying software suited to more complex tax situations is a viable and cost-effective way to get expert guidance while still doing your taxes yourself.
File Your Return 
If you're going old school with your return, you'll have to trek down to the post office and mail your package to the appropriate address for your state. Note that different addresses are used based on whether you include a payment with your return or you're entitled to a refund. 
Tax prep software connects with the IRS e-file system, making it the most convenient way to submit your return. You'll have to set or obtain a PIN to electronically sign your return. If you owe money, you can pay one of several ways: 
Authorize an electronic money transfer

Pay using a credit or debit card 

Mail a check or money order along with Form 1040-V, the payment voucher
Saving Your Return and Supporting Documents 
In most cases, the IRS requires that documents supporting most tax returns be saved for three years. For example, tax records for 2015 can safely be discarded at the end of 2018. There are some situations where the IRS suggests holding on to your data longer. Documents that support another purpose, such as an insurance claim, should be kept in a safe place.