Simplifi by Quicken: University Alumni Program
Give your alumni the tools they need to stay on top of their money
What is Simplifi by Quicken?
An award-winning personal finance app
Simplifi is an elegant and modern solution that helps users stay on top of their money wherever they go—available on the web, Android, and iOS.
To help a new generation stay on top of their spending and savings
Simplifi helps them better manage their spending, keep their bills and subscriptions in check, save more, and pay down debt, so they can better secure their financial future.
And give them insights to make better decisions
Simplifi is a valuable tool for college alumni as they become financially independent, helping them make smart choices that fit their lifestyle.
Named "Best Budgeting App"
Recognized in Fast Company's 2020 Innovation in Design awards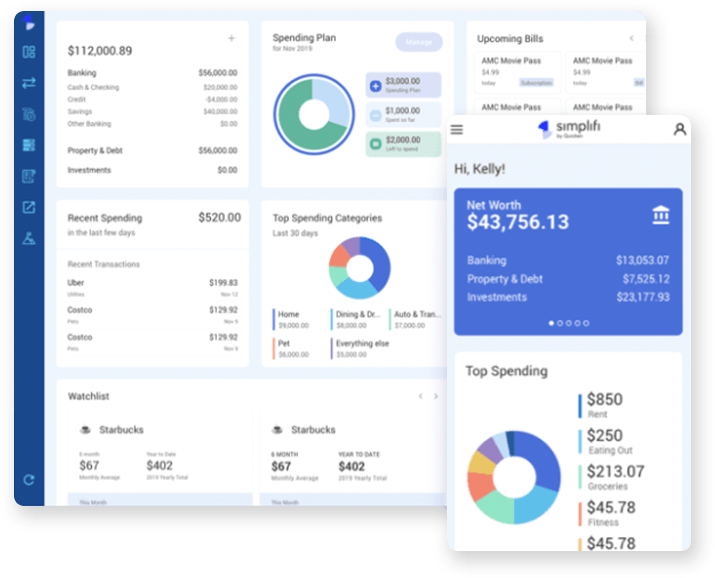 Chuck Harris
Executive Director, Texas Exes
"Simplifi is perfect for managing your money, while being very simple and intuitive to use. We're thrilled to be offering it to our alumni, particularly our recent grads who are looking for contemporary ways to manage their money."
Why Partner with Simplifi by Quicken?
The National Endowment for Financial Education (NEFE) found that nearly 9 in 10 Americans said COVID-19 is causing stress on their personal finances.
Millennials have been most impacted by the pandemic through personal finances, job loss, and delaying major life milestones.*
By partnering with Simplifi by Quicken, you have a real opportunity to deliver tangible value to your alumni today, when they need it most. Simplifi delivers that value from day one with insights and alerts that help them stay on top of their money and get their finances on track.
What do you get?
You get a value-add exclusive offer for your alumni
With potential revenue share for high-volume partners
That gives you a good reason to contact alumni and parents
And could even generate good-will
Because this is an app all alumni can benefit from, especially now
With the added association of a well-known, trusted brand


Eric Dunn
CEO, Quicken
"The earlier you start paying attention to your finances, the better off you'll be in the long term. Our partnership with these leading alumni programs will give their graduates a head start on staying on top of their finances and reaching their financial goals."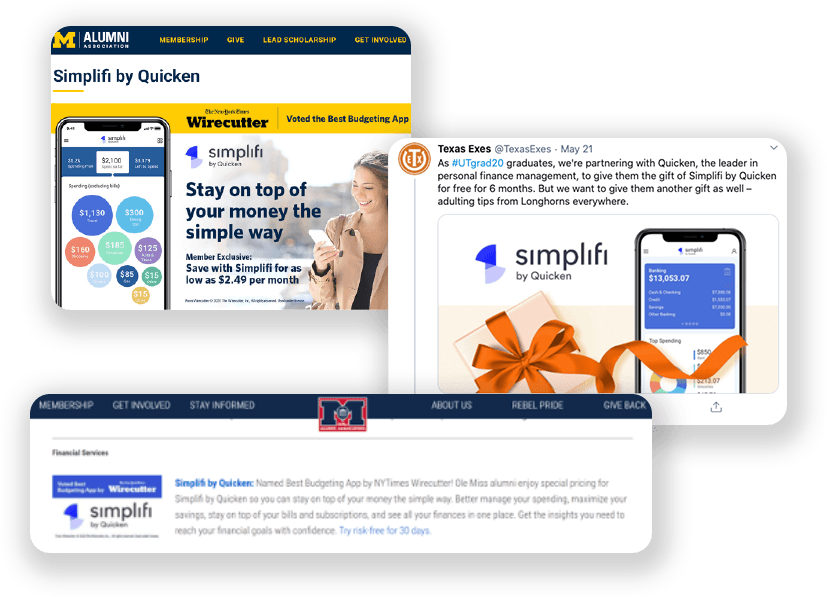 How Does the Program Work?
As a partner, you get a special offer to extend to your alumni. We provide the content and creative for your outreach, which is typically done via website, email, social posts, direct mail, print, and PR.
Frequently asked questions
What special offers are available for my alumni?
The offer is typically either an extended trial period or special pricing, depending on what works best for your alumni.
Is revenue share offered?
Yes, revenue share is available for our high-volume partners.
Is there any upfront cost to join the program?
No. There is no cost to join.