The Complete Guide to Getting Started with Quicken for Windows
Thank you for choosing Quicken for Windows!
In this guide, you'll find out how to:
Activate your Quicken membership
If you purchased a Quicken subscription from Quicken.com:
Your purchase required that you create a Quicken ID, or use your existing Quicken ID. This Quicken ID is associated with your subscription membership, so you'll use this ID to sign in and activate your Quicken membership.
Sign in using the same Quicken ID and password that you used to purchase Quicken.
After you sign in with your Quicken ID, your membership is activated.
If you purchased a Quicken subscription from a retailer (not Quicken.com) – either a boxed version or download:
Note: You can use this Quicken ID to sign into the Quicken mobile app on your phone or tablet.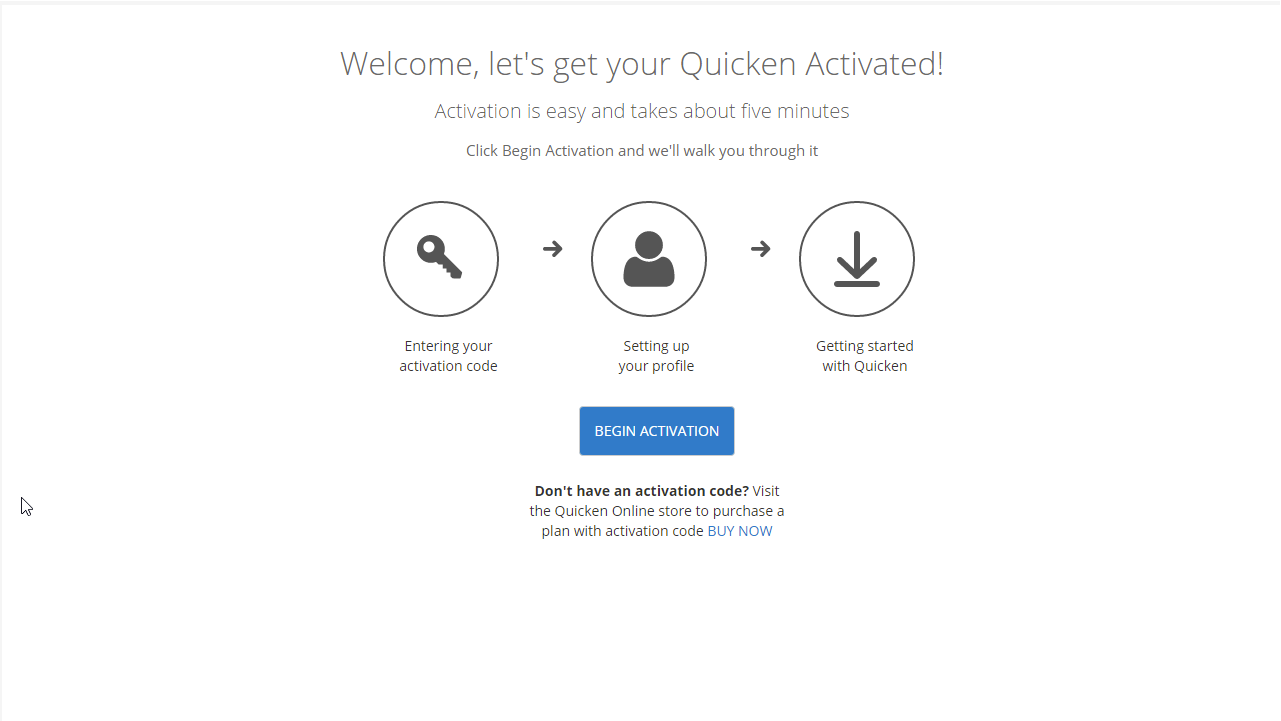 Click Begin Activation, to enter the activation code that you received when you purchased Quicken.
Click Activate Membership to complete your activation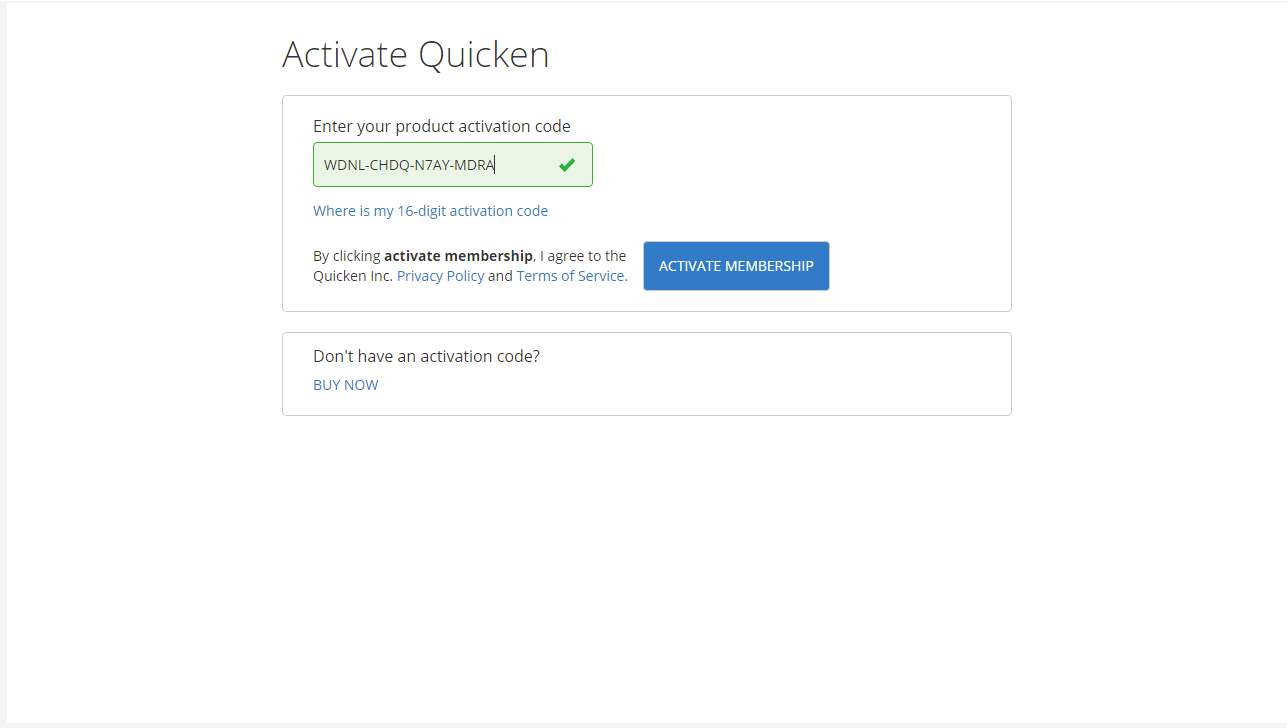 Setup your Quicken Profile
Once you've activated your Quicken Membership, you'll update your Quicken profile and click Continue
Then, you can select whether or not to sync Quicken data to your Mobile device, by selecting Use Mobile and enter a friendly file name (if you plan on syncing more than one Quicken file to your mobile device, this will help you select the correct files to sync).). If you're not sure if you want to sync to mobile right now, you can select Don't use mobile, and set up mobile sync later.
Set up your first account
To add an account simply tell Quicken where you do your banking and investing. Quicken will then connect to your bank, download your transactions, and give you a spending report. Adding an account also gives you the ability to run reports on income, spending, taxes, and investment performance based on the transactions that you download.
Click Add Account. You can also skip this step and add your first account later by clicking the
icon on the Home page.
Enter or choose the name of your financial institution (if you have more than one, don't worry—you can add more accounts later) and click Next.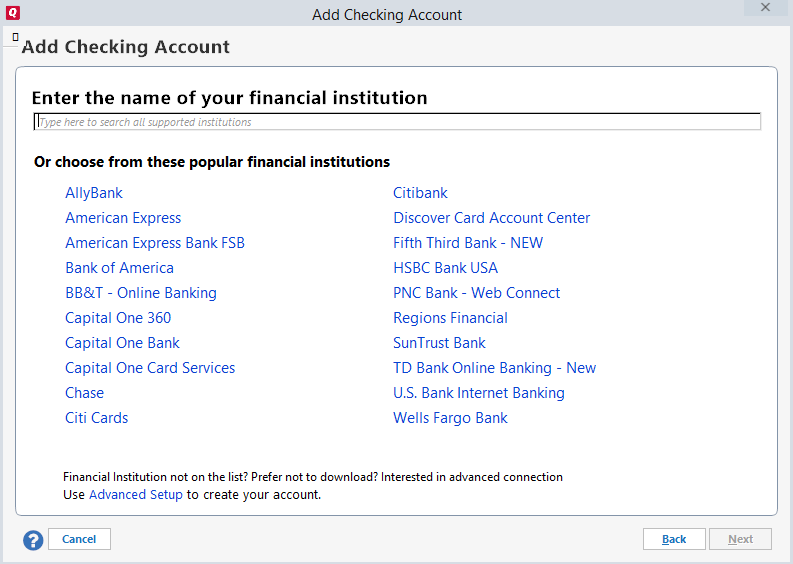 If there is more than one way to connect to your financial institution, Quicken will prompt you to select your preferred connection method, if applicable. Direct Connect may be an option if your bank provides it, but fees could apply. Check with your bank to confirm how to set up your account for Direct Connect.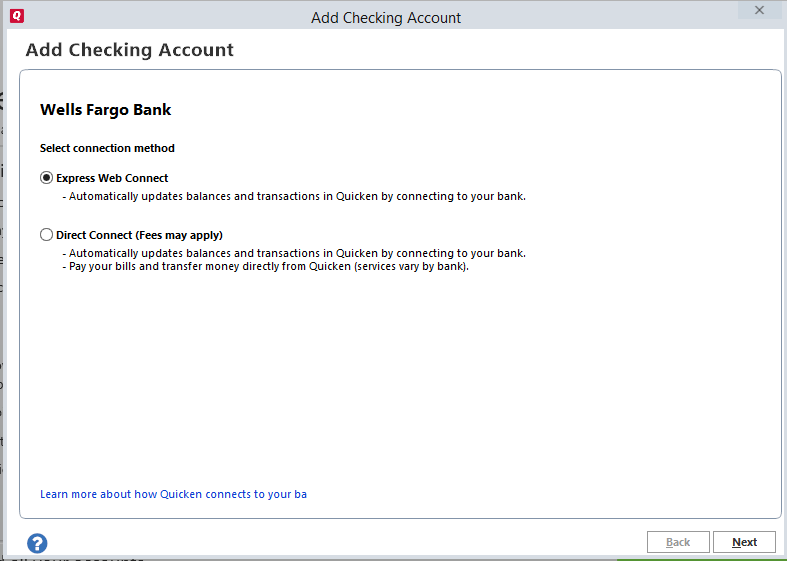 Enter your bank sign-in information. Usually, this is the same login you use for your bank's website.
If you'd like Quicken to remember your login information (so you don't have to type it in again when you update your accounts) select the Save this password checkbox. The first time you choose to save a password, Quicken will create a Password Vault, where you can save all of your banking passwords, if you choose. You'll be prompted to create a separate password for your vault. If you choose to save all of your passwords, you can then update all of your accounts with one click.
Click Connect
If you like, you can add a nickname for your account. If there are accounts you don't want to add to Quicken, select Ignore instead of Add.
Click Next and Finish. Quicken adds your accounts and downloads transactions. Note: Quicken can only download 30-90 days of transactions, as provided by your bank. If you'd like to download more transactions, contact your bank to determine if this is possible.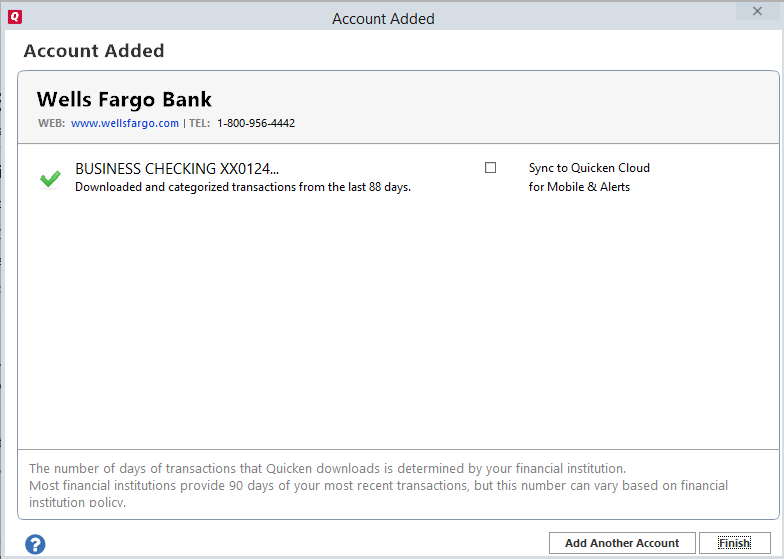 Congratulations! You've just added your first Quicken account!
Your account register looks like this:

If you want to add more accounts, just use the
icon on the Home page, or go to Tools > Add Account. If you don't, no problem. You can always add more accounts later
Set your Quicken Preferences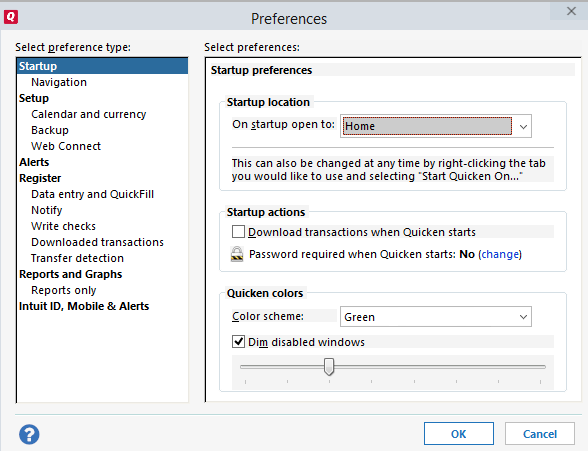 Take a tour of Quicken
Quicken is designed to make your day-to-day tasks as easy as possible. Here's a quick introduction to the components and tools you'll use very often.
Panels
The account bar is a list of all the accounts you've added to Quicken.
A register is a list of transactions added to an account in Quicken.
The menu bar displays all the tabs to access different features in Quicken.
Icons
| | |
| --- | --- |
| Add Account | Adds new accounts in Quicken. |
| Update Accounts | Downloads new transactions. |
| Manage Accounts (on the left) | Opens the Account List, where you can edit your account details and make other changes. |
| Actions (on the right) | Opens a menu of tasks, preferences, and reports related to the account register you're working with. |
| Reminder | Shows reminders for this account in the register. This helps you to see how they affect your account balances. |
| The Icon | Opens the Quicken Help in a new window |
| The icon (upper right side of the title bar) | Shows/hides the toolbar and main tabs. |
Basic Tasks
Click the account name in the account bar to open its register.
Click a transaction in a register to make changes, or click a blank line to manually enter a new transaction.
Click All Transactions to view all the transactions in all accounts in Quicken.
Click the tabs to access tools and features organized around common financial activities.
Click Help to learn more about using Quicken.
On the upper right side of the Quicken register window, search for a transaction.
Update your accounts
Now that you've set up an account, you'll want to keep your transactions up-to-date. To update your Quicken accounts:
Note: If you selected Save this password during account setup, you will only need to enter the password for your Password Vault.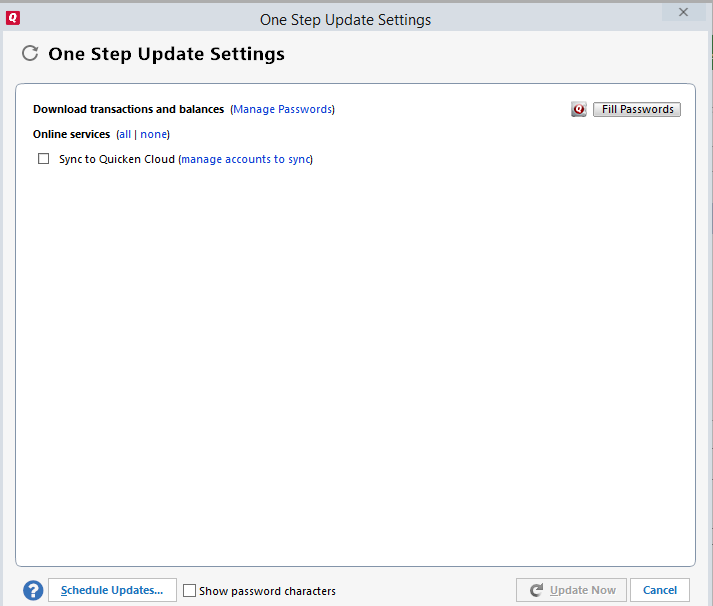 Click Update Now. Quicken downloads all new transactions and updates your account balances.
Categorize your transactions
Categorizing your transactions helps you see where you're spending your money. The good news is that Quicken does most of this work automatically for you!
Quicken assigns categories to your transactions when it downloads them from your bank. For example, if you used your ATM card at Kroger, Quicken knows that Kroger is a grocery store, and it automatically assigns the category Food & Dining:Groceries to the transaction.
In most cases, Quicken can accurately guess the category. In some cases, however, it doesn't recognize the transaction the first time -- for example, your rent check. Quicken also might assign a category to a transaction that you don't want -- for example, during that trip to Kroger you may have bought pet food, which you want to track under the category Pets:Pet Food & Supplies instead of Food & Dining:Groceries. Naturally, you'll want to assign the correct categories to your transactions. Here's how you can categorize your transactions on the Spending tab.
If the category you want isn't in the list, click the New Category button.
Set up your bills and income reminders
Beyond tracking your spending, Quicken actually makes it easier to spend your money. And we mean that in a good way!
If you're like most people, you have the same bills to pay every month. If you tell Quicken what your bills are, and when you expect income, it can remind you when your bills are due, and project your account balances into the future. This will help you avoid late fees and overdraft charges.
Here's how:
Link your bills to the biller website
You can now link your bills in Quicken to the biller websites, so you can get your bills and the exact amount as soon as they're available!
Here's how:
Select Link it now again to search for your bill provider, and enter the login information you use on the biller's website to automatically update your bills in Quicken
When you've finished, the Stay on Top of Monthly Bills section on the Home tab lists your upcoming bills and any income for the selected date range.
Click Options to change the time period displayed.
Bill Reminders in your register
After you set up your bill or income reminders, you can choose to show them in your register, so that you can see what impact your planned spending will have on your account balance.
Note: You can change the time period for the reminders to display (next 7 days, next 30 days, etc.).
Create a budget
If you've been following along and setting up Quicken as you work through this guide, you now know where your money is going, and where you stand with your upcoming bills and income. Knowing these critical facts about your finances sets the stage for the next huge benefit of Quicken: keeping your spending in line with your income.
How does Quicken do it? A section on the Home tab makes it easy to see if you're coming in under your target or if you're going over budget.
Enter a name for your budget and then OK. Quicken automatically creates a budget for your recurring personal expense categories.
When you've finished, the Budget Your Spending section on the Home tab shows you how you're doing with your overall spending.
To customize your budget (choose amounts and categories to budget for) just click the Planning tab.
Use the Home tab
The Home tab is a dashboard where you can track your finances and stay on top of your bills.
Quicken gives you the flexibility to customize the default Main View as well as add more views. Simply click Customize and enter your preferences.
After you add your accounts, categorize your transactions, and add your bills and a budget, you can track all of these at a glance on the home tab, to get a quick snapshot of how you're doing.
Use Quicken on your phone or tablet
The Quicken Mobile Companion app (iPhone®, iPad®, Android™) syncs with your desktop data and makes keeping track of your money easy while you're on the go. You can also receive alerts and notifications to help monitor your account balances, fees, and spending patterns. All of these alerts are customizable.
Here's how to get started:
On Quicken Desktop:
Select the checking, savings, credit, investment, or cash accounts you'd like to see on your Quicken mobile app.

When you've finished setting things up, syncing is easy. Just check the Sync to Quicken CloudSync Now button on the Mobile tab. Your Quicken desktop data will appear on all of your synced mobile devices. The transactions or receipts you've entered on your mobile device will also appear in your Quicken desktop file.

On your phone:

Download the Quicken Mobile Companion app from the iTunes or Android app stores.
Install the app on your device.
Sign in with the Quicken ID that you used to sync your data file from the desktop.
The data that you synced from your desktop will be visible in your Quicken mobile app
You can download the transactions from your FI directly onto your phone for banking accounts. Investment accounts will need to be downloaded to your desktop and synced to mobile.
You'll be able to get the latest market price for your securities directly on your mobile device.
You can sync more than one data file to your mobile device using the same Quicken ID; to see all of the Quicken files associated with your Quicken ID, just go to Edit > Preferences > Cloud Accounts and click Cloud accounts associated with this Quicken ID.

With the Quicken mobile app, you can:

Sync and use your Quicken desktop data on your mobile device
Enter or download transactions on your mobile device and see them on your desktop
Add, edit, or delete transactions even when you are offline on your mobile device
Snap and store receipts on your phone and sync to Quicken desktop
Sync you investing accounts and watchlist to mobile to get the latest quotes anytime and anywhere
Sync your data with multiple mobile devices
Receive email alerts
Review your spending wherever you are
Search for transactions on your mobile by categories, date, amount, etc.
And more!