Invest in your financial security
Includes everything in Quicken Deluxe, plus:
Easily manage your investments and meet your goals
Make better buy/sell decisions by seeing all your investments in one place
Track cost basis and estimate capital gains to make tax time easier
Top personal investment and finance software, with over 30 years of experience
Link your bills and Quicken will automatically track the due date and amount due*
Automatically transfer data from previous Quicken versions.
$104.99
Free Shipping
60-day Money Back Guarantee
Organize, analyze, and optimize your portfolio
Analyzes your portfolio so that you know your risk vs. return and take actions to improve your portfolio
Reports not just on funds, but securities held within your funds
Instantly see multiple views of your portfolio (including asset allocations, geographic regions, sectors, and more)
Download your income and expenses from your banks, brokerages, and financial institutions – no need to enter manually!
Make informed buy and sell decisions
See how your investment performance over time compares to market indexes
Find mutual funds that best fit your investment goals using Morningstar Ratings™*
Minimizes taxes on your investments
Helps you get the maximum tax benefits
Tracks cost basis, estimates capital gains, and exports your data directly to TurboTax for fast and accurate tax preparation*
Plan for your future
Let Quicken help you reach your retirement goals
Know how much you can spend with forecasted balances
See when paychecks, bills and more are scheduled
Tracks and categorizes your expenses so you don't have to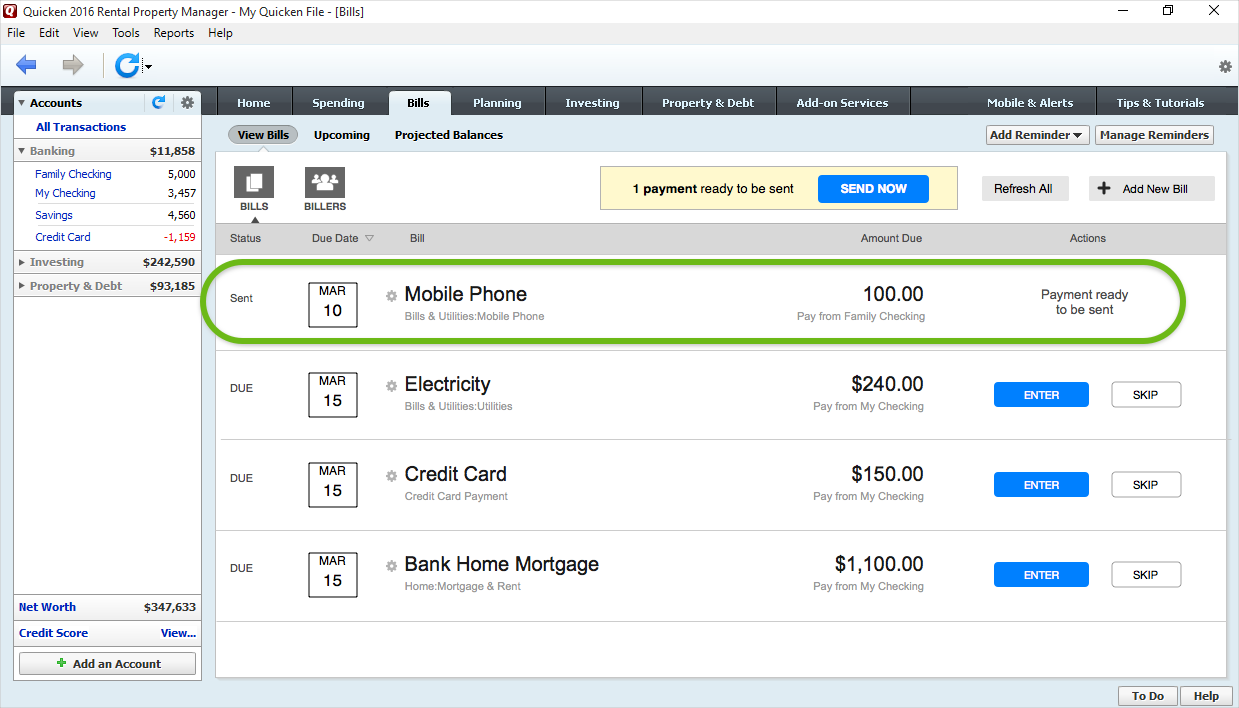 NEW! See, track and pay your bills all in one place
Link your bills and Quicken will automatically track the due date and amount due
Know exactly where you stand with your bills and cash flow without having to log into multiple accounts
Easily pay your bills on time from right within Quicken
More tools to help meet your goals
Even easier to get started, upgrade (to Quicken Mac or Windows), or set up new features
See your day-to-day cash flow
Helps you create a custom plan to reduce debt
Makes tax time easy by importing your info to TurboTax*
Get free credit monitoring alerts, credit score, and report summary*
Make smart money decisions on the go*
Check account balances and get timely alerts with the free Quicken mobile app
Sync information between your computer, tablet, and smartphone
Snap and store receipts to easily track important purchases
You're up and running fast with simple setup
Chat with Quicken support for answers on any product
Get help, advice, and answers from the Quicken Live Community
Automatically transfer data from previous Quicken versions.
$104.99
Free Shipping
60-day Money Back Guarantee