Bill Manager: Enable Add-on Payments
Before you begin: This feature is only available for Quicken Bill Pay users that have migrated to Bill Manager. This feature will be available to all users in the future. 
Overview
Beginning with Quicken for Windows R30 and Quicken for Mac R6.0, Bill Manager will offer the option to add more payments to your Quick Pay and Check Pay allotment.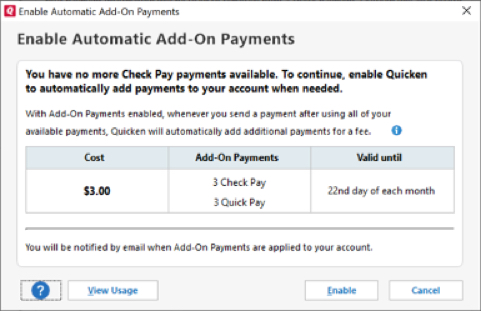 Quicken for Windows

Quicken for Mac
When prompted, simply click Enable, or Accept on Quicken for Mac. From there on, Quicken will automatically add additional Quick Pay and Check Pay payments when necessary.
Please note, this is not a recurring monthly fee. You will not be charged for Add-On Payments unless you send a payment after exhausting your available payments.
 
To disable this feature
You can disable this setting in the My Account page or by contacting Customer Support.