Error When Using Online Services: CC-508
Product Version
Deluxe
Business
Premier
Starter
172 people found this helpful
Overview
This error occurs when your financial institution has added either a new page to its website or a pop-up window that requires your action to bypass it, such as a prompt to update your personal contact information or promotional material such as credit card or loan offers.
Instructions
First, refresh your online account information
From your account register: select the Actions gear icon at the upper right of your register (Ctrl + Shift + N).
Then select Update Now.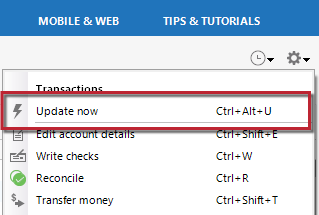 Follow the on-screen instructions to complete the update.
Repeat these steps for each financial institution experiencing this error.
Then, visit your bank's website
Sign in to your financial institution's website.
Navigate to the page you download your account information.
When you encounter the new web page that requires your response, fill out the requested information and dismiss the screen. This could be a dialog requesting you accept terms of service or a special offer.
Important: If you have the option to not display the page or ask you again, select that option. If you do not, the error may continue to occur.
If the issue persists
Close Quicken.
Clear Internet History & Cookies.  


Click the Start button and select Control Panel. In Windows 10, the Control Panel is located in the Windows System folder in the Start menu.
Select Network and Internet > Internet Options.
Click Delete.
Make sure there is a check next to Temporary Internet Files. The other checkmarks are optional.
Click Delete.
Then click OK when done.

Log into your financial institution's website and accept Cookies and any security measures, as requested by the site.
Open Quicken and try your update again.
Note: If the Security level is set too high, it may prevent your system from storing the cookies and security necessary to continue functioning with your financial institution. Medium security level should be sufficient to store the cookies and security. You can re-elevate the security level after a successful connection with your financial institution. If the financial institution uses expiring (session) cookies or expiring security, you may have to repeat these steps each time the cookies/security expire.
Your financial institution cannot resolve this issue. If you need assistance, contact Quicken Support.