Error: You have exceeded the maximum number of datasets
Product Version
Windows Subscription
Mac Subscription
Overview
You may receive the following error message when attempting to sync to mobile/web, or create a data file: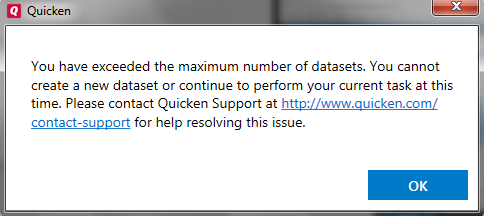 To resolve this issue
If you have an active Quicken subscription
Please contact Quicken Support for assistance. 
If your Quicken subscription has expired
This error will occur when a subscription has expired. To create a new dataset, you will need to renew your subscription.