How do I create a new Quicken data file?
Product Version
Business
Deluxe
Premier
Starter
338 people found this helpful
Before you begin
Your Quicken data file holds all your account information, just as a file folder holds your paper banking or brokerage statements. 
If you use Quicken for personal finances only, you probably need just one Quicken data file. When you have all your accounts in one data file, Quicken can:
Keep one list of income and expense categories for all your accounts
Include data from all accounts in a single report or graph to track income and expenses, net worth, and other important information
Transfer money from one account to another within the file
When to use multiple files
With separate files, there is no connection between the accounts in one file and the accounts in another. There are some reasons, however, why you might want to have more than one file:
If you keep your home finances separate from your business finances for tax reasons.
If you maintain the books for a volunteer organization, or for a friend or relative.
If you never transfer money between two sets of accounts. (You can track transfers between accounts only when they exist in the same file. If there is any chance that you will ever want to track accounts together, you should create them in a single data file because it is not possible to merge data files at a later date.)
If you simply want to exclude account information from the Account Bar and reports, you can always create several accounts in a single data file and customize Quicken to hide the accounts you don't want included at any one time. 
Creating a new file
Choose File menu > New Quicken File.

Select New Quicken File.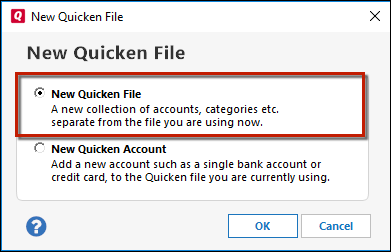 Click OK.
In the File name field, enter the name of the new file then click Save.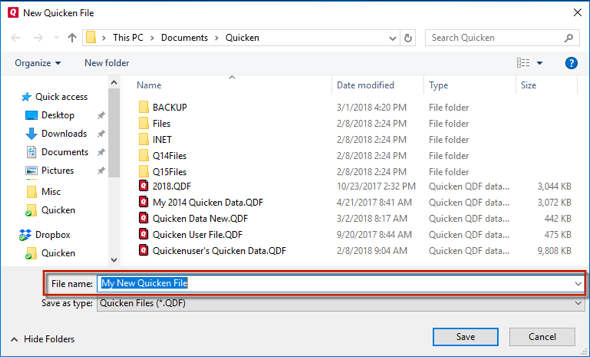 Don't use any of these characters: * ? < > | " : \ / (asterisk, question mark, left and right angle bracket, pipe, straight quotation marks, colon, BACKSLASH, FORWARD SLASH). Also, don't add the .qdf extension; Quicken does that for you.
Sign in with your Quicken ID. If you are prompted to create a Quicken ID but already have one, click Sign In under the Create Account prompt.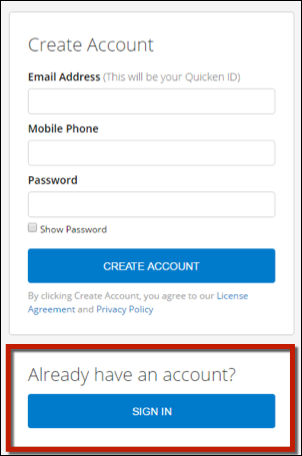 Select if you want to use Mobile.
Click Add Account to start adding accounts to the new file. 
What happens next?
Quicken stores your new data file in the same folder as your current data file unless you specify otherwise. By default, the location is the Quicken folder.
How to alternate between multiple files
Quicken will list the most recently opened files so you can access and switch between them from the File menu.
Click the File menu.
Look near the bottom of the option list.
Select the data file you want to open.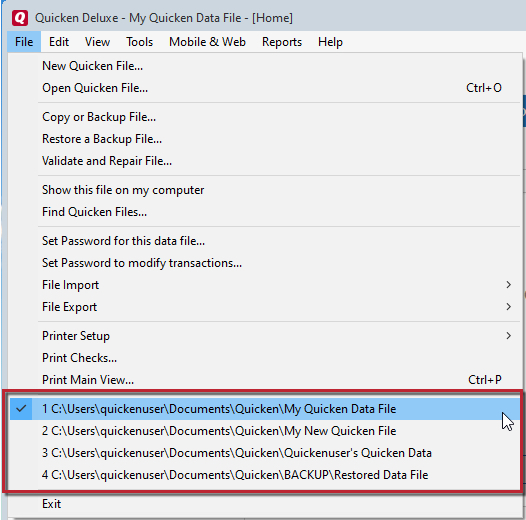 Quicken will list the most recently opened data files, with a check mark next to the file you are currently viewing.
Notes
Create a new data file only when you want to keep accounts completely separate (for example, if you track a business and you want to keep personal and business data completely separate). If you simply want to exclude accounts from net worth values and reports, consider adding a new account to the existing data file and hiding the accounts you don't want to see at any one time. The accounts are excluded from reports and net worth totals until you unhide them.
Quicken can display up to 50 data files in one folder. If you use more than 50 data files, store your files in more than one folder.