How Do I Install or Reinstall Quicken for Windows From a CD?
782 people found this helpful
Before you begin:
This article is for the Subscription Release of Quicken. We no longer provide support for discontinued versions. 
Quicken Subscription users, did you know you don't need a CD to install Quicken? To quickly download Quicken, click the corresponding button for your operating system. 


 

 

If you did not purchase a CD copy, and you need to download a copy of Quicken to install or reinstall the program, follow the instructions here. 
If you are upgrading from Quicken 2009 or older, you will need to use one or more intermediate versions to complete the conversion. For more information, click here. 
If you have Quicken on a CD and your computer doesn't have a CD/DVD Drive, click here. 
If you're having issues with the Quicken ID, click here.
If you get an "Oops" or "Unknown Error" message when trying to sign in and complete the registration, click here.
If you need help activating your Quicken Subscription version, click here. 
If you need help moving your Quicken data from one computer to another, click here.  
To install or reinstall Quicken:
Installing and reinstalling Quicken both follow the same process:
Insert the Quicken CD into your CD drive. Installation should start automatically.
What if the CD installation does not start automatically?
Start the CD manually:
a. Close all open applications.
b. Right-click the Microsoft Windows Start button and select File Explorer.
c. In the File Explorer, click This PC then double-click the DVD/CD Drive.
d. Click OK and follow the on-screen instructions.
The first window you'll see says Welcome! We'll guide you through the setup of Quicken. Click "Let's go" to continue.

The default location where Quicken will be installed is the destination folder.  This is located on your local hard drive.  Click "Install" to continue.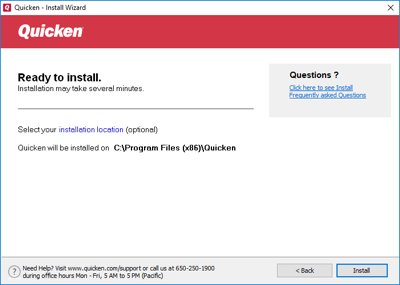 The next few windows you'll see will show your progress installing Quicken and will install updates, if available.  

When complete, you'll see Installation Complete!  Quicken will open when you click Done.  If you're not ready to open Quicken yet, just uncheck the box below Start using Quicken now.

Once Quicken is open, sign in with your Quicken ID and password. Then complete the registration (tell us about yourself). Quicken will automatically open your most recent data file or you can open a new file. 
When the installation is complete, we recommend to follow the steps here to confirm you are on the latest release for your version of Quicken.