How do I download and install or reinstall my Quicken purchase from Amazon.com?
165 people found this helpful
Before you begin: If you need to download and install Quicken and you did not purchase from Amazon.com, click here. 
Subscription Version of Quicken
As of 4/15/2020, digital copies of Quicken will no longer be available for purchase on Amazon. Physical CD copies can still be purchased at the Amazon Quicken storefront here. 
If you have previously ordered a digital copy of Quicken from Amazon and need to download it again:
Visit www.quicken.com/download.
Select I'm installing on another computer.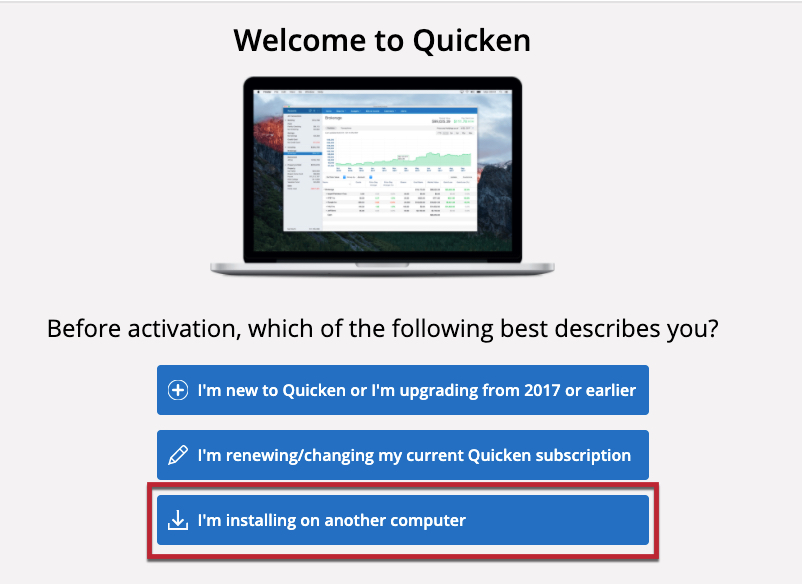 Download Quicken for Windows or Quicken for Mac and follow the instructions to install Quicken.
Prior versions of Quicken
If you purchased your Quicken 2017 (or older) software download from Amazon.com, you'll need to go to Amazon.com to download it. Sign into your Amazon account, then find your Quicken purchase in your order history; from there, you can download the software from Amazon. Please note, Quicken cannot verify or control the length of time Amazon makes purchased digital products available for download. 
For detailed steps on downloading your Amazon.com order go to Download and Install Your Order on Amazon's website.
Prior versions note (Quicken 2017 and older): These versions are no longer supported. Also, we don't have a way to access your Quicken download if you've purchased it from another retailer; you'll need to go to that retailer's site to download Quicken.
Installing or reinstalling a download from Amazon.com (or any other retailer) is the same as installing a download from Quicken.com. After you download Quicken, follow the FAQ for your Quicken version: