How To Set Your Printer To Print Checks in Quicken
Product Version
Business
Deluxe
Premier
Starter
109 people found this helpful
Overview
If you have a page-oriented printer, you can assume that you should insert checks in the paper tray or envelope feeder the same way that you would insert standard letterhead paper.
You can also use the Check Pay option in Quicken Bill Manager to send checks to anyone in the U.S. Click here for more information. 
Important: Checks cannot be printed on regular printer paper. Compatible checks can be ordered from Intuit. Although Quicken has separated from Intuit, Intuit is still our preferred check supplier. Intuit carries QuickBooks checks which are compatible with Quicken. You can order checks by calling Intuit at 1-800-548-0289.
Quicken for Mac: For instructions to print checks in Quicken for Mac, click here. 
Set up a printer
Choose File menu > Printer Setup > For Printing Checks.
From the Printer list, select your printer.
Choose Page-oriented.
Choose the check style you're using.
Choose a full-page source, and if necessary, a partial page printing style and a partial page source.
Click OK.
Be sure the printer is turned on, is online, and is loaded with blank paper or a sample check.
Click Align.
Troubleshooting
In some cases, having the incorrect tray selected can cause issues when trying to print checks. To confirm the correct tray is selected:
Go to File > Printer Setup > For Printing Checks.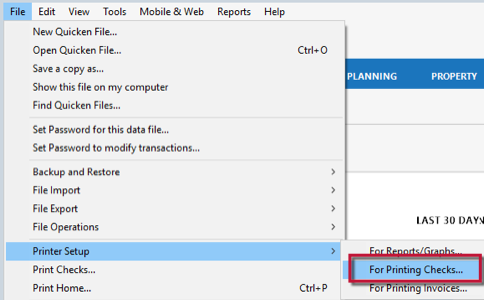 Click Properties at the top of the Check Printer Setup dialog box. 
Review the Paper Source and Media to confirm they match your printer settings. 
Additional Printer Troubleshooting
For more troubleshooting information, click here. 
Note:
Check 21 is a federal law enacted to help banks handle more checks electronically. Because check scanners may reject checks that use an incompatible font style or size in the numeric dollar amount field, you can print only checks from Quicken that use Arial (font), Regular (font style), 10 pt (font size) in this field. The font style and size of all other typed fields do not interfere with the Check 21 restrictions, so you again have the flexibility to change this information in Quicken. 
For additional assistance with checks in Quicken, scroll down to the Related Articles listed below. 
Related Articles