How do I Install or Uninstall Quicken for Mac?
274 people found this helpful
Before you begin
Quicken for Mac is available for download from Quicken.com, the Mac App Store, or Amazon.com.  If you need to download Quicken again, just go to the site you've purchased Quicken from and log into your account. 
For instructions on downloading Quicken if you purchased from Quicken.com, click here.  
Installing Quicken
Install Quicken for Mac from a download
When installing the Subscription Release of Quicken

, you simply need to double-click the icon that appears in the install prompt:

.
If prompted, enter the administrator's account name and password.
Double-click the Quicken icon in your Applications folder to launch the program.
Install Quicken for Mac using a CD
Insert the Quicken CD into your CD drive. 
Double-click the Installer file, which can be found by opening your CD folder or in your default download location. If you double-click the file and nothing opens, restart your system and try again.
Click Continue in the Welcome window.
Click Accept to the Software License Agreement.
Click Install to install Quicken to the location shown. To install Quicken in a different location, choose the location, and then click Install.
Follow the on-screen installation instructions.
If the Quicken program prompts you to restart the computer, click Restart. Otherwise, click Quit.
Note: You can uninstall prior versions of Quicken once the new version has been successfully installed. This will not create an issue with your Quicken data. 
After Installing Quicken
Opening the correct version of Quicken
The latest version of Quicken, the Subscription Release, does not have a version year on the app icon like prior versions do:
To open the new Subscription Release of Quicken, you'll need to select the Quicken icon with no version year:

Subscription Release of Quicken icon example
To open Quicken 2017, you'll need to select the icon with the corresponding version year:

Quicken 2017 icon example
You can also ensure you are opening the correct version going forward by keeping the Quicken app icon in your Dock. You can do this by right-clicking the icon in the Dock at the bottom of the screen, selecting Options, then Keep in Dock. 
Uninstalling Quicken
Uninstall Quicken for Mac
Uninstalling Quicken for Mac is an easy, two-step process:
Locate Quicken in your Applications folder.
Drag the Quicken icon into the Trash.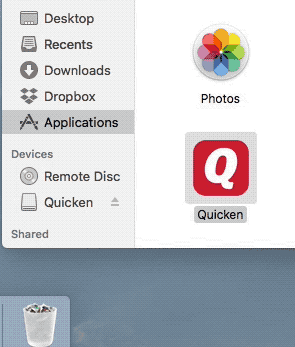 Once Quicken is moved to the Trash folder, the uninstall is complete.  
Troubleshooting
If you are having issues getting Quicken to install, try restarting your Mac and then attempt the install again. 
If it appears like Quicken isn't opening after completing the install, it could be that the Quicken window is hidden. Right-click the Quicken icon in the Dock and select Show All Windows. If the Quicken window appears, click it to bring it to the forefront.