Message: EWC-DC Mismatch (OL-238)
Product Version
Deluxe
Business
Premier
Starter
314 people found this helpful
This message indicates that some of your banking accounts may be set up with different connection types, or the connection type may have changed.
This message is typically a warning of the mismatch and you can ignore the message and continue using Quicken without further issue.
If the message does cause an issue, the steps below should resolve it.
To resolve this issue:
First, turn Automatic Entry off
Press Ctrl+A on the keyboard to bring up the Account List, then click the Edit button next to the affected account in the list 
In the Account Details window, click on the Online Services tab then click "Automatic entry is."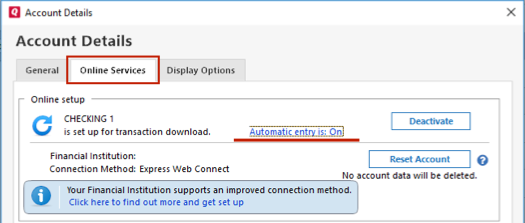 Select No on the next dialog box and click OK. Automatic entry should show as "Off" now.
Click OK to close the Account Details window. 
Repeat these steps on each account you have with the bank affected by this error.
Click Done on the Account List.
Close Quicken, wait a few seconds, then re-open it.
Deactivate and re-add the accounts
Go back to Tools > Account List. 
Click the Edit button next to one of the accounts with the affected bank.
On the Online Services tab, click Deactivate.
Repeat steps 1 - 3 on each account you have with the bank affected by this error.
Once all the affected accounts are deactivated, they will need to be reactivated.
Go to Tools > Add Account.
Select the bank for the deactivated account(s) and enter your credentials when prompted.
When the list of located accounts appears, choose LINK next to each account you want to reactivate.
Click Next then Done on the last prompt.
Please note loan accounts cannot be deactivated. They would need to be deleted and re-added.