Message: File Not Copied
Overview
The following error message is received when attempting to copy a Quicken data file: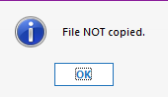 "File NOT Copied"
File NOT Copied errors are caused by damaged items in the file, such as reminders or attachments. 
To resolve this issue
You can still choose to copy the file: 
Hold down the Shift key and go to File > File Operations > Copy.
Click Yes on the confirmation prompt.
This process will ignore and exclude the damaged items and complete the file copy.