Online Bill Center Error: "Biller Already Added"
14 people found this helpful
Overview
This error normally occurs when the biller has previously been added to your Online Bill Center. 

To resolve this issue
Check your Online Bill Center to see if the biller is already added in Quicken.
Open Quicken.
Select the Bills & Income Tab > Bills.
Look through the biller list to see if the account is active.
If the account is not listed, try the Validate Online billers process:
Go to the Bills & Income Tab > Bills.
Click the gear icon in the upper right.
Select Validate Online billers.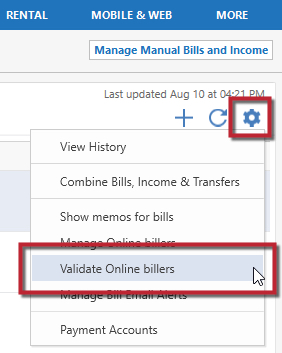 Click OK on the Validation Complete screen.
You may receive a message confirming the biller was found in the server and removed. Try to add the biller again.
If you still receive the error, you will need to Contact Support.