Quicken Uses Incorrect URL for Online Banking
68 people found this helpful
Overview
When adding or updating accounts in Quicken, you may see the bank's URL.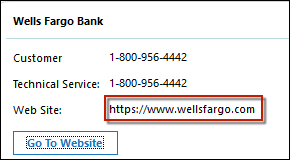 Add Account                                                           Online Center
This article addresses how to determine if the URL displayed in (or used by) Quicken is incorrect.
How are you determining that Quicken is connecting to an incorrect URL?
Please note, the URL seen in the Add Account screen or Online Center is not necessarily the one used to download transactions. The one seen in these screens will typically direct users to the bank's customer service page and is known as the Homepage URL.
If clicking on the Homepage URL takes you to the wrong website or brings up a Page Not Found message, this could be because an incorrect URL is listed. 
The following issues may be unrelated to an incorrect URL:
Quicken reports an error when trying to Add an account for Express Web Connect/Quicken Connect.
An existing, activated account no longer downloads current transactions, or returns an error when updating.
For these situations, use the Search field at the top of this page to look for the actual error message. This should return FAQs that have answers (or more information) specific to the error.
How can I fix an incorrect Homepage URL?
If Quicken is displaying an incorrect Homepage URL, the financial institution will need to report this URL change to the Quicken financial services provider through their account manager.
This is the only method, as the financial institution can confirm that the URL in Quicken is truly incorrect and not just experiencing temporary difficulties. Quicken Support cannot make this change.