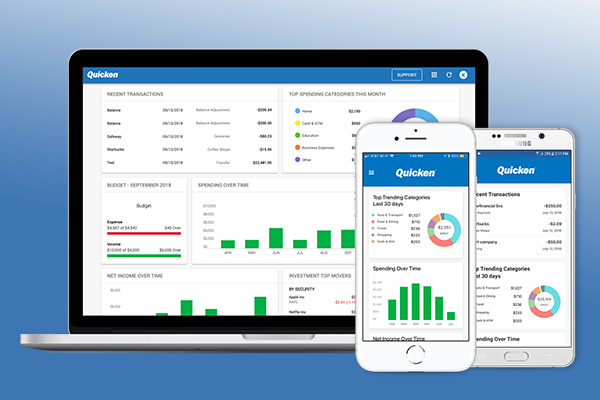 Control Your Finances on the Move with Quicken Mobile and Quicken on the Web
Written by John WorleyFebruary 8, 2020

6 MIN READ
Did you know that Quicken membership comes with both a mobile app and a web app at no extra charge? 
Designed to give you ultimate financial control any time, anywhere, these personal finance apps are companions to the desktop software, harnessing the power of Quicken on the go.
What Is the Quicken Mobile App?
The Quicken mobile app is a companion app, designed to work with your desktop software. Download it from the App Store or Google Play to see and control your finances wherever you go.
The app syncs with your desktop, so you can keep your finances at home and then check on them at the coffee shop. Or vice versa!
To access your data on the app, turn on sync in your desktop, run a One Step Update, and then sign in to the mobile app with your Quicken ID. 
Your synced accounts will be available on your device. You can see balances, edit transactions, see spending trends, check your investment portfolio, and more.
If you don't need mobile or web access you can turn off sync at any time. Like everything else about Quicken, the mobile app keeps you in the driver's seat.
What Is the Quicken Web App?
The Quicken web app makes that same synced information available to you on the web, using any computer or tablet with a web browser and an internet connection. 
Want to use your office computer to check your finances over lunch? Or maybe your sister's computer while you're visiting family? Use the web app. 
It's as easy as signing in, and you don't need to install Quicken. The app works with any modern browser.
If you're traveling and you didn't bring the link, don't worry. We made it easy to remember: app.quicken.com.
But What About Security? Are the Apps Safe?
One of the reasons our members choose Quicken for their personal finance management software is our dedication to security. From the very beginning, more than 3 decades ago, Quicken has implemented continuous security updates to keep your data safe.
The mobile app supports Face ID, Touch ID, and passcodes for individual authentication. For the web app, sign in when you want to check your finances and sign out when you're done. Your data isn't stored on the phone, tablet, or guest computer.
If you ever lose your device, we've got you covered there too.
Today, even with the introduction of the mobile and web apps, your data is still stored on your own computer. If you turn on your phone's ability to wipe it clean remotely—a good safety precaution for any mobile device—you won't have to worry about stolen data.
For Android, directions are in the Google Help Center.
For iPhones and iPads, directions are in Apple's User Guide.
If you ever think your device might have been stolen, wipe it remotely. Your data will remain safe and sound on your own computer.
Okay. Sounds Good. What Can I Do With Them?
We're so glad you asked! Both the mobile app and the web app let you control your finances when you're away from home, but they also have some great features that are worth exploring in their own right. 
The Quicken mobile app and Quicken on the web are true companion apps, working with your desktop software to make it that much more powerful.
1. See and Manage Your Finances on the Move
One of the best things about the mobile app is that it lets you track your finances no matter where you are. 
Downloading transactions throughout the day takes only moments. The app displays your full financial picture, so you don't have to wait until you get home to see what you need.
Want to change a category or split a transaction while you're on the go? Do it right on the app. 
Run a One Step Update the next time you use your desktop software, and those changes will be synced automatically, making your financial oversight faster and easier than ever before.
2. Store Photos of Those Important Receipts
Did you know the mobile app lets you take photos of your receipts? 
Tap "Add Attachments" when you enter a new transaction and use your phone's camera to snap a picture. The app syncs with the desktop software to store the receipt with the transaction.
Need to track that receipt for business purposes? Or to prove the date of purchase for that warranty? On your desktop or on the go, you'll have it where and when you need it. 
The photo is attached to the transaction, so you can find it by searching for the transaction itself in any of the ways you're used to: by date, payee, amount, or even your own memos.
You can even use the mobile app to attach photos of previous receipts to earlier transactions. 
Just find the transaction in the mobile app, touch it to bring up the details, and touch "Add Attachments." 
Once you've saved the photo in the app, run a sync from your desktop software. The photo will be added to the transaction automatically. 
3. Drag-and-Drop the Web Dashboard Modules
Quicken on the web gives you access to your financial information on any computer with a web browser and an internet connection.
The same accounts that you chose to sync to the mobile app will also sync to the web app, but the web app comes with some unique features of its own.
Everyone likes to access their own information in unique ways. That's why the web app comes with a highly customizable dashboard.
Put investments at the top, or at the bottom, or anywhere in between. Or decide not to show them at all. Just drag them where you want them.
Drag-and-drop the modules to organize the app exactly how you like it. Click "Configure Dashboard" at the bottom to choose which modules you want to see.
Quicken on the web will remember your preferences the next time you log in, showing you everything you want to see, exactly where you want to see it.
4. Take Your Budget with You
When you're traveling, it's easy to let expenditures get away from you. But nobody wants to worry about money when they're on vacation. 
With the Quicken mobile companion app, you can enjoy the best of both worlds.
Use the app to download your transactions as you go, so you can track your spending on the slopes, on the beach, or anywhere else you roam. 
You can even add cash transactions manually without entering bills at the end of the day or carrying around those receipts.
Keep tabs on your budgets whenever you like. It only takes a moment to look at your phone, and you'll enjoy your vacation a lot more if you aren't worrying about how much you might be spending.
Better yet, everything you do on your vacation will be right there waiting for you when you get home. Just run a One Step Update on your desktop software. 
With the mobile app, you can manage your finances no matter where life takes you and come home just as organized as when you left. Vacations have never been more relaxing!