How to add your PayPal weblink to invoices and rent reminders
Quicken now allows you to embed links in your invoices. These links could be:
A PayPal link – that helps your tenants or customers to pay their invoices more quickly
A Yelp link – so your customers can read or write reviews about your business
A direct link to your website, or directions to your location.
To include an invoice link:
Go to the Invoice screen (Business Actions > Invoices and Estimates > Create Invoice), click on Insert Web Links.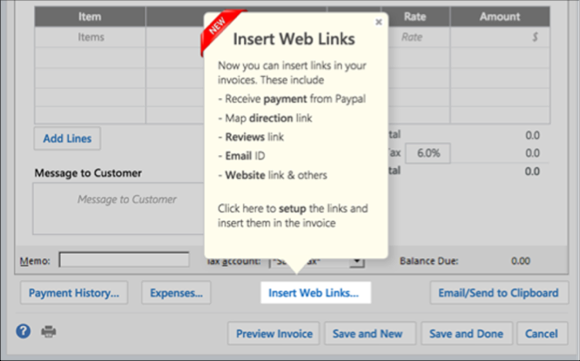 Select the (Setup…) next to Payment Link and choose Pay with PayPal.
3. Go through the PayPal setup flow. Once the setup is done, you can include the PayPal link in your invoices. Your customers can click on the link and pay you from their bank or credit card accounts.
You can repeat this process for any other links you want to include in your invoices like Yelp, directions, websites, etc.  You can also claim your business by clicking on the Claim your business link as indicated below in the Find us on Yelp set up screen.