Quicken is asking for an activation code, but I didn't receive one
Product Version
Business
Deluxe
Premier
Starter
315 people found this helpful
Important, read first:
If you purchased a download of Quicken from Quicken.com, you will not need an activation code; your membership is tied to the Quicken ID you used when you purchased Quicken (your email address).
If you purchased a boxed copy or download from a retail store, follow these steps to locate and use your activation code. 
If you open a data file that has a different Quicken ID signed in than the one used to purchase the subscription, you will be prompted to enter an activation code.
If you purchased from Quicken.com and you're still receiving an activation code prompt, the steps below should resolve the issue.
Second, confirm that you're logging in with the correct Quicken ID:
You will be prompted for an activation code if you ordered from Quicken.com and you used a different Quicken ID than the one you're using to sign into the Quicken program with.
Confirm that you're logging in to Quicken with the exact same Quicken ID you used to purchase:
Go to Quicken.com and click on Sign In > My Account
Sign In with your Quicken ID and password
After you've signed in, confirm that your subscription download product is in your account.  It will appear under Plan Details:

If you don't see your subscription download product, or if you're unable to sign in at all, it means that you used a different ID to purchase Quicken, and that Quicken ID is what you need to use to sign in to your Quicken product. 
You should have received an email when you purchased Quicken that has your Quicken ID information; this email will not have an activation code, as you do not need one if you purchased from Quicken.com.  Be sure to check your different email addresses and spam or junk email folders to find this email and confirm your Quicken ID. 
To sign in with a different Quicken ID:
Follow these steps to change the Quicken ID associated with your Quicken file, which will remove the activation code prompt.
Note: If you don't see or can't get to the Edit menu on the upper left, close the sign in window.  You may have to close it several times before you can see the Edit option.
Click on the Edit Menu and select Preferences.
In the left panel, select Quicken ID, Mobile & Alerts.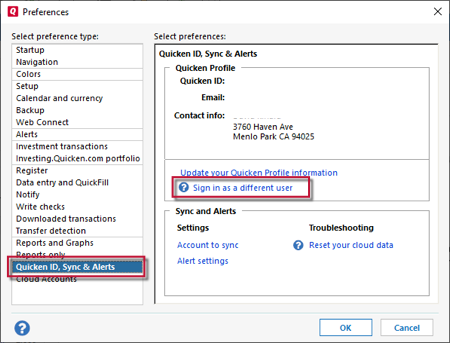 Click Sign in as a different user.
Type "yes" as prompted and click Sign Out.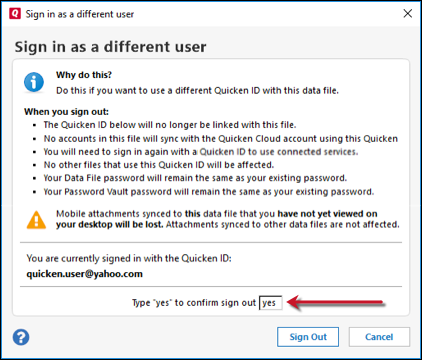 Close and reopen Quicken.
Sign back in with the correct Quicken ID.
Lastly, if the issue persists
If the steps above do not resolve the issue, there may be a firewall on your system blocking Quicken from accessing the internet. For more information on configuring firewalls, click here.