Quicken Bill Manager: How many payments can I make each month?
Product Version
Bill Manager for Mac
Bill Manager for Windows
Windows
Mac
Overview
Quicken Bill Manager comes with a set monthly allotment of payments you can make. This is determined by your previous Bill Pay use and Quicken product version. 
Payment allotment
Subscription Release users on Premier or Home & Business: 
12 Quick Pay payments and 3 Check Pay payments.
Subscription Release users on Premier or Home & Business that are also existing Quicken Bill Pay users: 
12 Quick Pay payments and 6 Check Pay payments.
Quicken users who currently use Quicken Bill Pay and pay a monthly fee for the service:
15 Quick Pay payments and 15 Check Pay payments.
How can I see how many payments I have left?
To check your remaining payments:
Go to the Bills & Income tab. 
Click the gear icon in the upper-right corner. 

Select Payment Accounts.
The remaining payments can be seen under Payments available this month.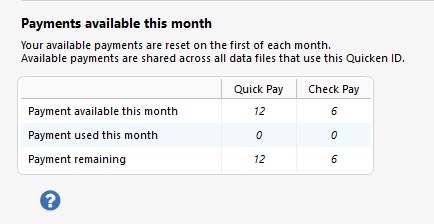 Other
Message: You have reached your limit for the number of payments you can make this month. You will need to wait until next month to make a payment.
Reasons for this error:
You've exceeded your allotment of checks 
Your subscription to Bill Pay is expired
Your subscription to Quicken is expired
Please note, the amount of checks resets at the beginning of the month. This monthly reset will not necessarily coordinate with your subscription dates.
Example:
You purchased a Quicken subscription on January 1st. Then, you set up Quick Pay/Check Pay on January 15th, and received 15 checks with your plan. 
You'll have 15 checks available between January 15th and January 31st to use. If you don't use them, they do not carry over.
On February 1st, the month resets, and you'll have 15 checks to use between February 1st and February 28th.
If you feel you have reached your payment limit in error, please contact Quicken Support.