Settings in the Quicken Mobile App
Overview
The Settings menu can be accessed by tapping the Menu icon

 in the upper left. The Settings menu provides four different options you can tap.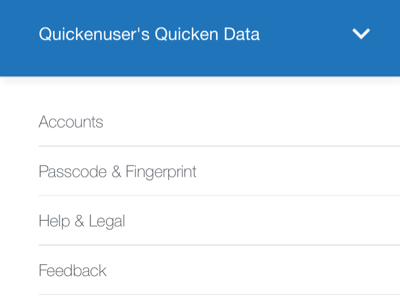 Accounts
Tap the Accounts option to see a list of the accounts in the data file.
Note: If an account is having connectivity issues, you will see This account needs your attention above the financial institution.
You can tap an account for a detailed view and the account status.
Passcode & Fingerprint
The Passcode & Fingerprint section will give you the option to lock the Quicken Mobile App with a four-digit passcode or Touch ID. Face ID is also available in devices that support this feature.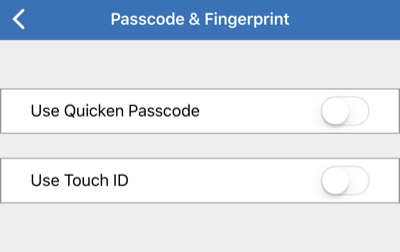 Help & Legal
This section contains links to the Quicken Support site, the Acknowledgements page, the Quicken Terms of Use, and our Privacy statement. 
Feedback
Tapping this section will open a draft in your email app. You can fill out the body of the email to provide feedback on your experience with the Quicken Mobile App. When finished, tap Send.