What is the Quicken Data Access Guarantee?
Product Version
Windows Subscription
Mac Subscription
2656 people found this helpful
The Quicken Data Access Guarantee means that whether you renew your subscription or not, you'll always have full access to and ownership of your data. You can view, edit, export, and manually enter transactions and accounts, even after your subscription ends.  As always, your Quicken data is stored on your local computer.
Access to online services, such as transaction download, quotes, and mobile sync, along with access to Quicken Support, will end if your subscription does. We'll continue to let you know about our latest enhancements within the Quicken product.
What does this look like?
If your membership expires, you'll see these messages in your Quicken product: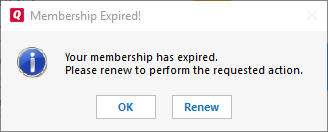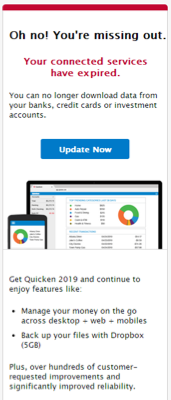 Just click the Renew or Update Now option to purchase a membership
Please note that the Quicken Data Access Guarantee is subject to all limitations and conditions outlined in the Terms of Use (U.S. or Canada) and End User License Agreement (U.S. or Canada). The Data Access Guarantee applies to Deluxe and higher versions of Quicken; the Starter version will become read-only.
Everything you need to know about subscription (Video):
Everything you need to know about your Quicken Subscription
Subscription FAQ Links:
Quicken Subscription Membership FAQs