How to edit or delete your Cloud datasets in Quicken for Mac
Overview
After recent Cloud Service updates, you can now access multiple datasets on your mobile device, edit the names of your datasets, and delete datasets that you no longer want to sync to the cloud.
Important: While the Quicken Cloud data can now be deleted, at least one data file needs to be synced to the cloud. For more information on the Quicken Cloud, click here. 
Instructions
Go to Quicken > Preferences
Go to the Connected Services tab and click See all Cloud Accounts to see the dataset nickname(s).
To edit the dataset, go to the Dataset manager and click the pencil icon at the bottom of the page.  
To delete a dataset from the cloud, click the minus icon at the bottom of the page...
...and then confirm.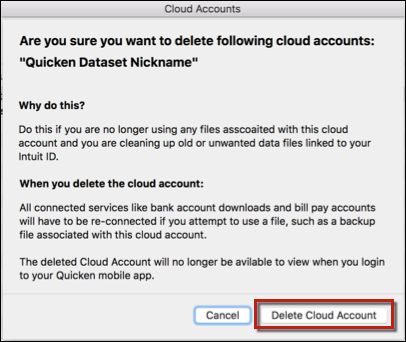 Note: A dataset cannot be deleted if it is the one currently open in Quicken. To switch to a different data file, close the Cloud Accounts list and the Preferences window and go to File > Open.