Quicken Performance Troubleshooting
106 people found this helpful
First, review the system requirements
Verify that your computer meets the system requirements to run your version of Quicken. If your computer meets the system requirements, here are several tips to improve performance:
Exit all open programs that you are not using.
Restart your computer, especially if it has been used for a long period of time since it was last restarted.
Remove items from the Microsoft® Windows® Startup group.
Run the ScanDisk utility, followed by Disk Defragmenter utility. Consult Windows Help for complete information.
Second, try copying and Validating your file
If the suggestions above do not improve performance, or if Quicken runs slowly in certain areas of the program only, follow the Copy and Validate steps in troubleshooting to correct data file damage.
If the issue persists
If Quicken still runs slowly after completing the Validate process in the link above, you may need to copy your data file without attachments. 
To do this:
Choose File menu > File Operations > Copy.
In the Copy the current Quicken file field, accept or change the location and name for the file copy. You can also click the Browse button to change the location the file copy will save to.
Naming Rules: When naming the Quicken file, don't use any of these characters: * ? < > | " : \ / (asterisk, question mark, left and right-angle bracket, pipe, straight quotation marks, colon, backslash, forward slash). Also, don't add the .qdf extension; Quicken does that for you.
Uncheck the Include Attachments box (this reduces the size of the file copy by removing attachments).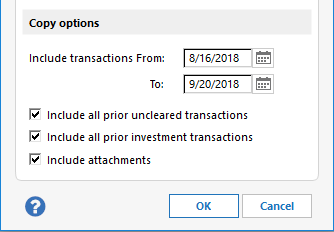 Click OK.
Select New Copy when the file has copied successfully.
Click OK.
Test your regular procedure(s) to see if the slowness issue you were encountering is now resolved.