Reinstalling and patching your Quicken Subscription version after your membership has expired (Quicken for Mac)
Overview
After your Quicken Membership expires, you will no longer receive updates to the Quicken application. However, you may continue to use the version of Quicken you had at the time your Membership expired to open your data files and, for Quicken Deluxe and above, continue to use Quicken in a manual mode. See our Data Access Guarantee.
If your Membership has expired and you need to reinstall Quicken (on the computer it was originally installed on or on a new system):
First, uninstall the existing copy of Quicken
To uninstall Quicken:
Locate Quicken in your Applications folder.
Drag the Quicken icon into the Trash.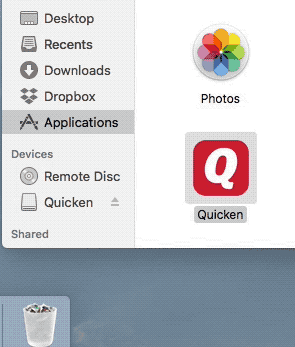 Once Quicken is moved to the Trash folder, the uninstall is complete. 
Second, install the older version of Quicken
Find your Membership expiration date (you can see this by signing into My Account)
From the list below, download the version of Quicken that was released before your expiration date.
For example, if your Membership expired on August 11th, you could download the latest version released before that date.
December 2022
November 2022
October 2022
August 2022
July 2022
June 2022
May 2022
April 2022
March 2022
February 2022
January 2022
December 2021
October 2021
September 2021
August 2021
July 2021
June 2021
May 2021
February 2021
January 2021
December 2020
November 2020
September 2020
August 2020
July 2020
May 2020
March 2020
February 2020
January 2020
November 2019
October 2019
September 2019
August 2019
July 2019
March 2019
January 2019
December 2018
October 2018
September 2018
July 2018
June 2018
May 2018
April 2018
March 2018
February 2018
December 2017
November 2017