Why am I being asked to sign in with my Quicken ID repeatedly, or why am I being asked for an activation code even though I purchased from Quicken.com?
409 people found this helpful
To resolve this issue
Download the latest update here if you have not done so already.
After completing the update, open Quicken.
Hold the Control key and select File menu > File Operations > Validate & Repair.
Check the Validate file box and click OK. 

If initiated correctly, the Validate file checkbox will also show the message "Authentication block will be fixed" as pictured above.
If the issue persists
If you don't see or can't get to the Edit menu on the upper left, close the sign in window.  You may have to close it several times before you can see the Edit option.
Click on the Edit Menu, and select Preferences.
In the left panel, select Quicken ID, Mobile & Alerts.
Click Sign in as a different user.
Type "yes" as prompted, and click Sign Out.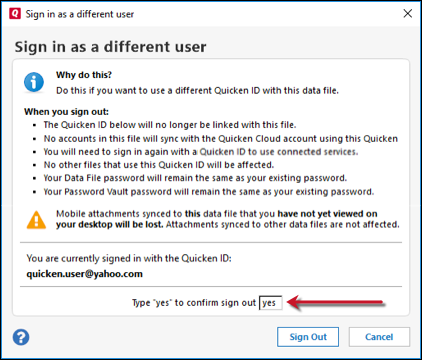 Sign back in with your Quicken ID.