Ten Essentials to Getting a Great Start With Quicken
Written by Craig TsuchiyaMay 5, 2020

5 MIN READ
Have your financial information ready
When you set up Quicken, you are going to want to have your financial information at your fingertips before you begin. This includes a list of your accounts:
Bank accounts
Loans
Credit cards
Online billers (cable, utilities, services, etc.)
You will want to have your login name and password ready for every online account you want to add. All of these types of accounts can be tracked through Quicken, including setting up bill scheduling and payment. When you add an online account, Quicken can automatically download all of the transactions for that account, as well as the balance. This will give you the best information about your finances. You can't manage what you can't track.
Depending on your version of Quicken, you might also want to track investments and rentals. 
Add all of your accounts
The most important part of getting started with Quicken is to add your financial accounts. To get the most out of Quicken, you need to add all of your accounts.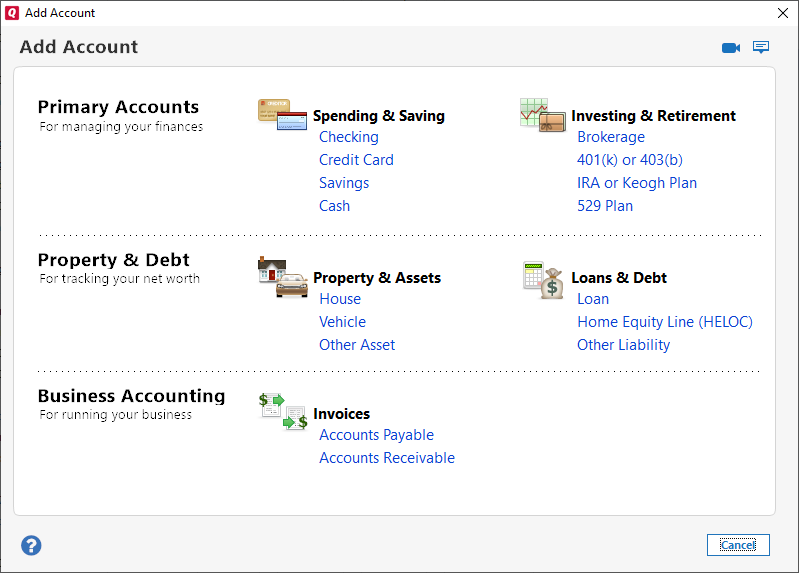 If this is your first time using Quicken, you will be prompted to add your accounts as part of the setup, but you can add accounts at any time by selecting
.
You will want to be familiar with the
 button. This is referred to as One Step Update. When you select One Step Update, Quicken downloads the latest transactions from your online financial accounts.
Learn more about using Quicken (Windows)
There are many resources for learning more about Quicken. Here are some guides you can access that will take you through some of the basics of using Quicken.
Learn more about using Quicken (Mac)
There are many resources for learning more about Quicken. Here are some guides you can access that will take you through some of the basics of using Quicken. You can visit our YouTube channel to see a number of helpful videos about using Quicken for Mac. You should also read our Complete Guide to Getting Started with Quicken for Mac.
Categorize your transactions
To get a clear idea of your spending and earnings you need to assign a category to each of your transactions. Quicken provides many categories that cover just about every aspect of your life. Quicken automatically assigns categories to most transactions based on where the transaction takes place. You need to review those transactions to make sure the category Quicken assigns matches your income or expense. In some cases, Quicken will leave a transaction uncategorized. This happens when the transaction is from an unknown source. You will need to assign a category for those transactions. 
Make Quicken a habit
The people who get the most out of Quicken use it daily or at least weekly. They download and review their latest transactions, making sure each transaction is categorized correctly. They take advantage of the spending tab to look at where their money is going. It is often surprising to people how much they spend in certain categories, or how much they rely on credit cards or overdrafts. When Quicken is a daily habit, you are aware of where your money is being spent, which is a big step toward getting control of your finances.
Create a budget
One of the most helpful and easiest to use features to get control of your finances is the Quicken Budget tab. From the Budget tab, you can create an automated budget quickly. If you choose to let Quicken create your budget automatically, your budget will be generated based on your past spending patterns. Quicken will find the categories you spend money in and present each category with a recommended spending amount. You can then adjust the categories and amounts as needed. You can choose your categories and amounts manually if you prefer that to a Quicken generated budget.
Take advantage of Quicken Mobile and Quicken on the Web
Whether you use Quicken for Windows or for the Mac, you also get the convenience of Quicken Mobile and Quicken on the Web. These companion apps allow you to check and update Quicken information anywhere.
Join the Quicken Community
Quicken is a powerful program for handling your finances. Because there is so much it can do, there are always opportunities to learn more from the people who know the product best. Our customer care team is always available to help, but another great resource is our active community of users. Quicken has been on the market longer than any other personal finance product, and many of our users have ten, twenty, or even thirty years of experience with the product.
We recommend that you join the Quicken Community. The Quicken Community is filled with people at all levels of skill using the product. In many cases, you can find the answer to your question just by using the community search feature, but you can also ask questions and connect with people who are using Quicken to accomplish similar goals.
Read our blog
Finally, we recommend that you follow the Quicken Blog. It is filled with useful information about all aspects of our product, as well as general personal finance tips and tricks. Some great articles to start with are: