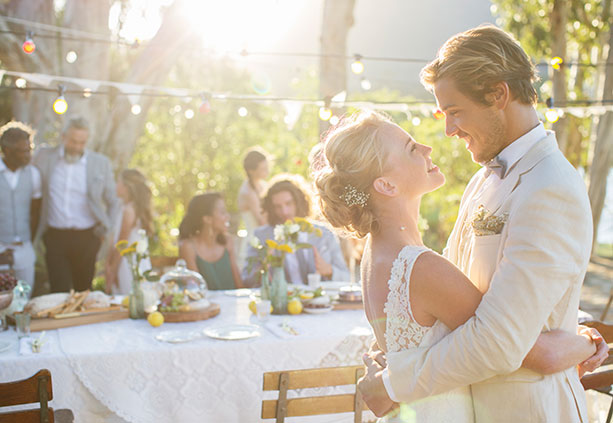 How Much Does a Wedding Cost?
Written by Ron Weber

3 MIN READ Life Milestones
Whether you and your partner have already set the big date or you're just starting to plan the celebration of your future together, saving money for your wedding should be a top priority. While the size and opulence of your wedding is entirely up to you, any reception you choose is likely to cost several thousands of dollars. Here's how the average wedding costs break down and how planning your big day can save you a few dollars.
Booking and Decorating the Venue
Once you choose the venue, booking and decorating it likely will take up the largest part of your wedding budget. In 2014, The Knot, a wedding planning website, surveyed 16,000 brides and grooms and found that the average wedding venue cost was $14,006. The site of the ceremony cost an average of an additional $1,901, and decor, including flowers, cost an average of $2,141. Hiring a wedding planner can set you back an average of $1,975, though that expense can pay off in spades, since a good planner helps you score deals with your venue and vendors.  
You can save a bit of cash when booking your venue by opting for an off-peak wedding, says Boston-based wedding planner Joe Rogers. That could mean getting married in winter or booking your date for a Friday or Sunday event instead of the traditional Saturday evening. 
Entertaining Your Guests
Food and entertainment also make up a significant part of the wedding budget. Catering costs an average of $68 per person, and the cake costs about $555. If you're hiring a reception DJ, plan to spend about $1,124, and budget roughly $637 for a ceremony musician.
Don't skimp on an open bar to cut costs. "If you can't afford a full, open bar, minimize the offerings by sticking with beer and wine and a couple of signature cocktails that have popular liquor," says Rogers. "Depending on the venue, you may also be able to bring your own liquor."
Documenting Your Big Day
Professional photos and video capture beautiful memories you'll cherish for a lifetime — but, let's face it, they don't come cheap. Photographers cost an average of $2,556, and the videographer costs $1,794.
You may be able to save money by selecting up-and-coming photographers and videographers, but proceed cautiously. "The number one thing not to skimp on is research," advises Rogers. "There's nothing wrong with hiring new talent to help with your wedding, but make sure to properly vet them and know that they are going to deliver."
Other Costs to Consider
Rings, formal wear and, of course, the dress, also add to your total wedding expenses. The average wedding dress costs $1,357, and the groom's attire generally costs $254. The engagement ring costs an average of $5,885; reception bands typically set you back $3,587; invitations cost $439; and wedding favors cost $275. All in all, the average wedding can cost a total of $31,213, according to The Knot. 
Should You Take on Debt for Your Wedding?
In general, no. "Taking on debt that you don't plan to pay off quickly is not a good idea," says California-based Certified Financial Education Instructor Amber Berry. "But responsible credit use is fine. Use your card to take advantage of the grace period, but avoid all but very small loans that you're sure you can pay off soon after the wedding," she advises. 
By saving early and using budgeting software like Quicken Starter Edition, you can plan the wedding of your dreams without taking on debt, plus you'll start off your married life on the right financial track.