Troubleshooting Quicken Registration
154 people found this helpful
What if I forget my Quicken ID password?
If you're seeing a password error when prompted for your Quicken ID (as pictured below), you can find help for this by clicking here.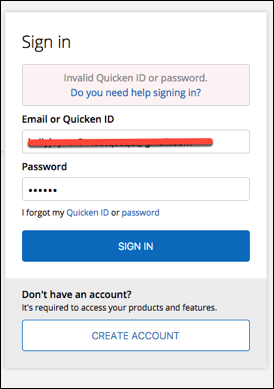 I'm getting an "Oops" error when I try to register Quicken
An "Oops" error during the registration process is typically caused when your Quicken is not updated to the latest release. As part of Quicken's continuous efforts to keep your data secure, you are required to use the latest Quicken update versions, which support several security enhancements including Multi Factor Authentication (MFA).  If you have not updated to the latest release, your Quicken may not be MFA enabled, and thus can't connect to the internet.
You can find help for an Oops error here. The links provided in that article will help you get Quicken updated to the most recent release.
I'm seeing a blank registration screen
You can find steps to resolve this issue here.
I no longer have access to the email address I used to register my Quicken ID
You can submit a request to change the email address for your Quicken ID here.
What if I don't receive a verification code?
First, when you have chosen the delivery option for your verification code, make certain you click Continue to have the code sent.
If you've had the code emailed to you, check your junk or spam folders - it's possible that the verification code was sent there. If the email isn't there, and you don't receive a text, you may have to verify your account information:
Go to Quicken.com and click Sign In > My Account.
Click View Prior Purchases.
Log in again when prompted (use the same username and password as step 1).
Click on View/Edit next to Account Information.
Next to your email address, click Verify.
You'll then receive an email to verify your account.
After your account is verified, try resending the verification code from Quicken.
NOTE: While you're completing step 5 above, you should also take the time to add and verify a cell phone for your account; this will make receiving verification codes much easier in the future. Just click the Security tab on the right and Edit your phone number. Follow the prompts to verify your phone.
If you require further assistance, please contact Quicken Support.