Error When Opening a Data File While Using an Online Storage Service
Overview
Quicken may display one of the following errors when attempting to open, back up, or restore your Quicken data file. Any of the errors below can occur if you try to open your Quicken data file while it is located in your Dropbox folder or another online storage folder. 
Some of the other programs that can cause these errors are:
OneDrive
Google Drive
Carbonite
Error Messages

"Quicken cannot open the data file because it is in use by some other application."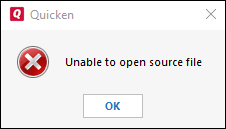 "Unable to open source file"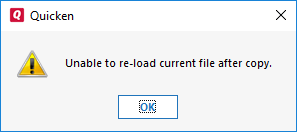 "Unable to re-load current file after copy."
It's important not to open a data file directly from Dropbox or other online storage folders, as this can cause issues with your data file; always open from your computer.  Dropbox is intended for storage of your Quicken Backup files, not to keep your active Quicken data file in.
To resolve these errors
Instructions
First, confirm the location of your data file:
Go to File > Show this file on my computer.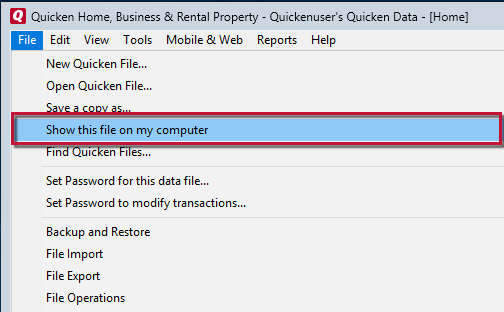 Review the file location path in the bar above the list of files.

 If "Dropbox" is in the file path, then follow the steps below to move it out of Dropbox and onto your computer.
Move your data file from Dropbox:
Open your Dropbox folder. 
Drag the data file from the Dropbox folder to your computer desktop. 

If you're prompted to confirm, click Move out of Dropbox.

Double-click the data file that you've placed on your desktop to open it.
If you need to use a Quicken data file on another computer, you will need to move the file to that computer. For instructions on the different ways to move a data file, click here. 
For more information on Dropbox: